Heritage Register
Fairfield

159 Cook Street
Park Mansions/Hampton Court Apartments

Built 1913
Heritage-Designated
For: Arthur Pallant

Architect/Builder: George C. Mesher & Sons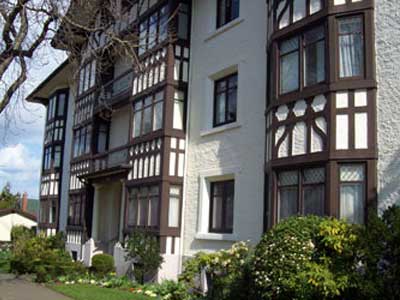 ARCHITECTURE:

This 3-storey apartment block has a shallow, bellcast, hipped roof relieved by a front gabled extension emphasizing the recessed entrance. A rooftop balustrade shown on the original plans does not survive. The style is basically classical, but with a wealth of Tudor details. The pebble dash stucco is set off by tall pillasters at all four corners and recessed window surrounds. Vertical rows of full-height angled and box bays with elaborate half-timbering embellish the front and both sides. The front façade is very balanced. Tuscan columns frame the recessed entrance which has grey marble steps and a white rectangular tile dado. The outer entrance doors are of oak with a leaded artglass transom displaying the name of the building. The 3-storey balconied entrance hall remains largely intact and is lit by a skylight. All windows are in pairs and are casement with single pane below and diamond pattern leaded glass above. Wide eaves have pairs of flat brackets at each corner. The basement is emphasized by scoring the stucco to resemble stone blocks. The north side has original garages in a courtyard configuration and highlighted with a cupola.

ORIGINAL OCCUPANTS:

Dr Arthur Pallant (1855-1915) commissioned the Meshers to build this 18-suite apartment building. Constructed in 1913 and originally named Park Mansions, it faces directly onto Cook St and Beacon Hill Park, with no front yard. By 1915 the name was changed to Hampton Court. Dr Pallant wanted a high class apartment building and he planned on living there himself. There were servants' quarters in the basement, connected to the suites with a buzzer system.

This apartment block, with its high ceilings, bay windows and separate dining rooms, was immediately popular. In the early days afternoon tea was served in the lobby. Large oil paintings which belonged to Dr. Pallant still hang in the lobby and stairwell.

Dr. Pallant did not live to enjoy his apartment for very long, as he was killed in a road accident in 1915. Ownership passed to his son and daughter, who sold it in 1958 to the Duke of Westminster, who owned several properties in British Columbia during the 1950s and 1960s, including the Mayfair Shopping Centre in Victoria.

OTHER OCCUPANTS:

The Westminster estate sold the building in 1968 and the new owner sold it two years later, to Elton Murphy. Murphy planned to demolish it in 1976 and had actually received a permit, but the tenants found out and made an urgent call to City Hall. Even the resident manager of the time, Alfred Loades, didn't know what the owner was planning. Victoria's mayor, Mike Young, visited the apartments with some council members. Two days later a stop-work order was issued and demolition was prevented with heritage designation of the building.

B. Elworthy became owner in 1977. Hampton Court was converted to a strata property in 1984, reducing the number of units to 16.