Heritage Register
Fernwood

1156 Fort Street (ex-268 Fort St)
Wentworth Villa

Built 1863
Heritage-Designated 1976
For: Ann Blinkhorn & Henry & Martha Ella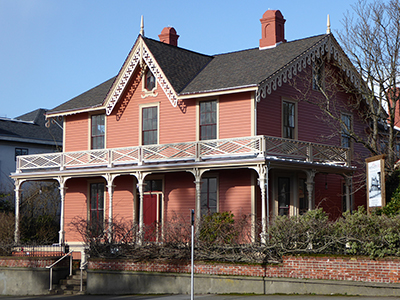 ARCHITECTURE:

Wentworth Villa is one of the oldest, and most valued, heritage houses in the City. Built in the Gothic Revival style, (also called Carpenter Gothic, because it is constructed of wood, not masonry) the home features hallmarks of the style. These include a symmetrical plan with a central front door, pierced bargeboards, steeply-pitched roofs, and a pointed window, with stained glass, high in the central gable illuminating the attic. Tall double-hung windows are small paned: six-over-six on the upper floor; four-over-four on the main floor. The house has wide bevelled siding, and a hip-roofed verandah that wraps around three sides of the house. Typical 1860's posts originally supported the verandah roof with a balcony above. These posts were pairs of slender, squared timbers, tripled on the verandah corners, culminating in delicate sawn brackets. The verandah roof was edged with a chinoisierie-inspired railing. By the 1890s the paired posts were replaced with solid single turned posts; the fanciful balcony railing lasted for a few years into the 20th century.

Wentworth Villa was built in 1863 on two large lots purchased from the HBC. Ann Blinkhorn purchased one lot in 1862, Capt. Henry Ella, the second in 1863; the lots extended through to View St to the north. The building site was at the furthest reach of Fort St on the edge of town: beyond the property line the thoroughfare became "Cadboro Bay Rd." The house was constructed on a ridge of bedrock that provided fine views. It has been occupied by just two families over the course of 149 years, though each occupancy was continued by three generations.

ORIGINAL OCCUPANTS:

1862-1939: The Blinkhorn and Ella families: Thomas Blinkhorn (b.Sawtry, ENG, 1806-1856) and Ann "Annie" (née Beeton, 1804-1884) travelled from England to Victoria in 1851, arriving on the barque Tory after a six-month journey. Annie's 16-year-old niece, Martha Beeton Cheney (b. ENG, c.1835-1911), accompanied them. The Blinkhorns were the first independent settlers in Metchosin, after the Hudson's Bay Company (HBC) employees. They managed Bilston Farm for Capt. Cooper. Martha's diary from her days at the farm details both the hard work and the exciting social life, with parties at Fort Victoria and on visiting Royal Navy ships. In July 1855 Martha married Capt. Henry Bailey Ella (b. Tower Hill, London, ENG, 1826-1873). Guests at the wedding included Gov. James Douglas. Henry had gone to sea at 14, came to Victoria in 1851 as chief officer of the Norman Morison, and then sailed between Victoria and England in the employ of the HBC. In 1853 he was awarded his Masters Certificate and became a captain. After Thomas Blinkhorn's death, his widow Annie and the Ellas moved to Victoria, where they lived on Broad St.

The Ellas had seven children before Henry drowned in 1873 while crossing Burrard Inlet in a canoe. Their first daughter, Elizabeth Annie, died of tuberculosis aged 17 in 1874. The others were Louisa, Thomas, Marion, Henry R, Frederick, and Mary. Annie Blinkhorn died in 1884, 19 days after her 80th birthday. In 1887 teacher Marion Florence married Samuel Dickson Nesbitt at the Church of Our Lord. [Note: He was the son of Samuel Nesbitt, biscuit and cracker manufacturer, and Jane Anne Saunders, who came to Victoria in 1862 on the brideship Tynemouth. They were the owners of Erin Hall, nicknamed "Cracker Palace" by the locals. Marion and Sam's grandson, journalist and historian James K. Nesbitt, founded the Craigdarroch Castle Society (1050 Joan Cr, Rockland).]

In 1888 Louisa married merchant Robert E. Dodds. Her wedding reception, like Marion's, was held at Wentworth Villa. In 1908 Louisa, now a widow and working as a dressmaker, inherited the estate of bachelor Arthur Stamhope Farwell, who had surveyed the town of Revelstoke and much of the Kootenays. He had first proposed to Louisa in the mid-1880s, but had been refused. Arthur renewed his proposal after she was widowed, but he died before they could marry.

In 1903 Martha Ella transferred ownership of the house equally to her six surviving children. Shortly after, in 1904, indoor plumbing was added to the house. Martha Ella, an ardent worker for Bishop Cridge's Reformed Episcopal Church and for charitable causes, died in 1911. Three of her children, Henry, Frederick and Mary continued to live at Wentworth Villa. Mary, a painter and craftswoman, died in 1918.

OTHER OCCUPANTS:

In 1922 the City of Victoria took ownership of Wentworth Villa for non-payment of property taxes. The City used their ownership to take 8 feet from the property for road widening purposes. Henry and Frederick stayed on as tenants of the City. Frederick William Ella was a salesman, Ritz Hotel employee and bartender; by 1920 he was co-proprietor of The Grotto saloon at 1204 Douglas St. Henry Reece "Harry" Ella was variously a teacher, accountant, real estate agent, and a logging and timber dealer. Fred left in 1925 to live at 957 Meares Street; by 1930 he had returned to Wentworth Villa, but died in 1931. Henry stayed on in the house, living mostly in the kitchen, until 1939. He then moved into the Pacific Club, on the 5th floor of the Pemberton (now Yarrow) Building.

1940-2012: The Grant and Graham families: Faith Grant and her husband George "G.C." Grant had opened an antique business known as The Connoisseurs Shop next door at 1162 Fort St in 1929. In 1940 when Faith heard that Wentworth Villa was for sale, she "ran down the hill to city hall" and paid "a quarter-century of back taxes" to acquire the house. The Grants added a two room and bathroom extension in 1956 as living accommodation "behind the shop." G.C. died later that year, and Faith continued to operate the business until her death in 1985. In that time, few alterations were made to the 1863 house, apart from layers of white paint and the demolition of a rear shed, resulting in a remarkably preserved residence. In 1977 Faith Grant was presented a Hallmark Society Award of Merit "for pioneering heritage preservation in Victoria."

In 1963 ownership passed to Faith's daughter Joan "Felicity" Graham. She died aged 56 in 1979, and the business passed to her children, Faith Grant's grandchildren, brother and sister Forrest and Heather Graham. They had started working in the shop during their summer holidays when they were young. In 1980 they added a second floor to the 1956 wing. Heather and Forrest operated Faith Grant The Connoisseurs Shop Ltd here until April 2012, when they sold the building and moved their business to Oak Bay Av. Wentworth Villa had been an antique shop for 62 years.*

2012-present: Wentworth Villa has undergone extensive restoration that included rebuilding of the original upper balustrade, The Wentworth Villa Architectural Heritage Museum is expected to open to the public in 2017. It will be operated by the Pacific Northwest Heritage Homes Foundation, a not-for--profit charitable organization. In 2016 they were awarded Heritage BC's Outstanding Achievement Award for Heritage Conservation.


*researched & written by Stuart Stark & Jennifer Nell Barr

ADDITIONAL INFORMATION & IMAGES:

• Statement of Significance (Canadian Register of Historic Places)

• Wentworth Villa Website

• Fernwood History

• Fernwood Heritage Register


• This Old House, Victoria's Heritage Neighbourhoods,
Volume One: Fernwood & Victoria West