HARRIS GREEN
Harris Green Neighbourhood History
By Maryanne McGrath © 2007 Victoria Heritage Foundation
Harris Green is Victoria's smallest neighbourhood, comprising just 12 blocks. Although it began as a residential neighbourhood, for years it was primarily a commercial district, but recent condominium developments are bringing residents back to the area. Pandora Avenue, Cook Street, and Meares Street bound the area, and its westerly boundary is between Quadra and Blanshard Streets. The neighbourhood's name originated from a strip of parkland that runs along Pandora Avenue from Quadra Street to Chambers Street, named after Thomas Harris, Victoria's first mayor (1862-65). The neighbourhood's northern border boasts several noteworthy churches, including the visually prominent Metropolitan United Church (1411 Quadra Street).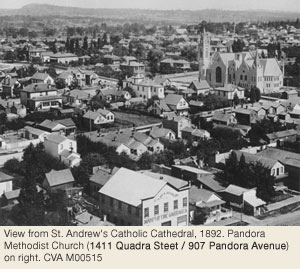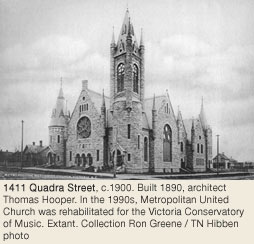 This community has undergone the most significant transformation of any Victoria
neighbourhood, other than downtown, reflecting its proximity to downtown. The area developed early, and the sections nearest Quadra and Blanshard Streets were first built up primarily as single family housing for downtown workers. Fire insurance maps from 1885 also indicate orchards and a few small commercial establishments in the area. Dwellings were concentrated along the west border nearest the downtown core.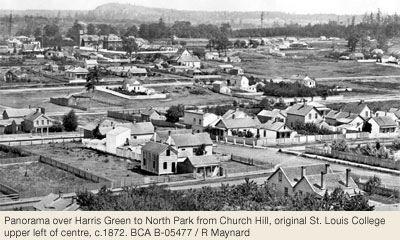 The City operated stables on Yates Street by 1890, which eventually became a general City Yard. It remained here until the late-1940s. Judah P. Davies had cattle auction yards between (it is thought) Fort and View Streets; Christopher Morley's first soda water factory was near the corner of Yates and Cook Streets; the Bavaria Brewery was on Fort Street; and the Victoria Electric Light Works was on View Street. Livery stables, hack drivers and blacksmiths had begun to be replaced in the neighbourhood by automobile companies and garages by WWI. Moore & Whittington Lumber Company had offices at 865 (originally 159) Yates Street from 1902-1911. By 1912 they had moved to Bridge Street in Burnside. BC Steam Dye Works was located at 831 (originally 141) Yates Street from the early 1890s until c.1920.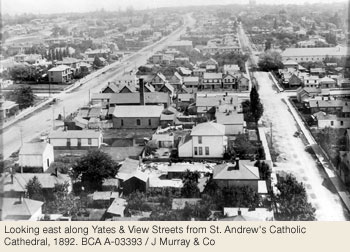 A large indoor roller skating rink built on Yates Street near Quadra Street in 1885 was seized by the City for unpaid taxes, bought by M. King and torn down in 1890 to make way for two rental houses. The Victoria Assembly Rooms were built at 938 (originally 178) Fort Street near Vancouver Street in 1886. Many of Victoria's elite attended dances there. In 1907 it was converted to a roller skating rink, but was demolished by 1912.

One of the area's earliest residences still stands at 1038 (originally 216) Fort Street as an antique shop on the "Antique Row" area of Fort Street. According to tax assessment rolls, William Pickett built the house in 1866 and William Charles (1831-1903) acquired it two years later. Son of HBC Chief Factor John Charles, William was born and educated in Scotland. In 1853 he joined the HBC at Fort Vancouver, WA, as an apprentice clerk, then was transferred to Fort Hall, Idaho. He was sent to Fort Victoria in 1858, where he married Mary Ann Birnie, daughter of HBC officer James Birnie. In the 1860s Charles worked in the BC Interior but returned to Victoria in 1870 and worked under his brother-in-law, James Allen Grahame (534 Street Charles St, Rockland). In 1872 he was promoted to factor, and in 1874, chief factor. In 1883 Charles became the first chairman of the newly organized Canadian Pacific Navigation Co. He retired to Victoria in 1885, but two years later suffered a bout of debilitating paralysis. He died in 1903 and Mary Ann remained in this house until 1912.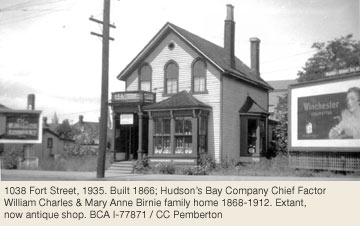 The 1884-85 Giacomo Bossi (merchant, supplier and landowner) home at 1007 Johnson St serves as a reminder of Harris Green's residential roots. During the 1890s many more dwellings appeared in the area, and several of Victoria's prominent early families resided here. It was a logical choice for businessmen as its proximity to downtown allowed for ease of accessibility to their growing establishments.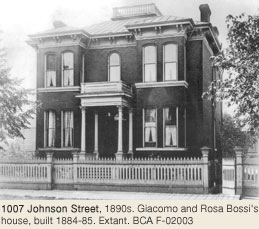 Several business and professional families have had a long history with Harris Green. These include the German-born Leiser family: Gustav and Meier "Max" Leiser, brothers of Simon Leiser (1005 St Charles St, Rockland), and Gustav's wife Sophia (1862-1919) lived at 920 Yates Street (originally 178, built c.1891, demolished 1951) for some years. Gustav (1856-1896) formed Lenz & Leiser with Jacob Lenz, his father-in-law, in 1884, to sell dry goods and mens wear, on Yates Street. Next door on Yates, Max Leiser (1861-1935), who married his brother's widow Sophia after Gustav died, ran a wine and liquor business with Luke Pither until bought out in 1910 by the Guinness family for $1-million.

James "Charles" Comyns Kent (1839-1922) and his wife Ellen (1831-1918), parents of prominent musician Charles Herbert Kent (228 Douglas St, James Bay), lived at 926 (originally 180) Yates Street for many years (built c.1870, demolished 1951). It was called Rose Garden because of its magnificent garden. Charles operated a hardware store on Fort Street, where the Pemberton Block is today. He eventually became City Treasurer, until retiring at 70.

John Jessop (1829-1901), a pioneer teacher in the city, lived at 938 Yates Street for 30 years (built c.1870, demolished by 1950.) Born in the UK, he took teacher training in Toronto and (after a brief stint in the Cariboo gold rush) began teaching here in 1864, when free education was introduced. In 1872 became the first Superintendent of Schools. In 1868 he married Margaret Fausette (1837-1897), who arrived in Victoria on the "bride ship", SS Tynemouth.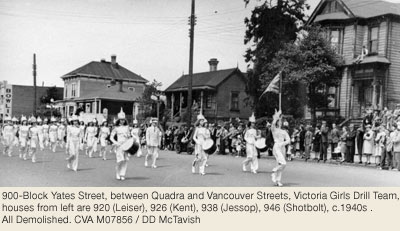 The Savage family had several generations of history in Harris Green. Robert William Savage (1839-1906) arrived with his parents on the Norman Morison in 1853. By the early 1870s, he and wife Jane (Omash, 1851-1923) were living on Johnson Street, and in 1885 built 1103 View (demolished 1962 for the Cook Medical Bldg). His jobs included teamster and janitor. Son Henry Richard Savage (1873-1950) and family lived at 944 Johnson Street (built c.1909). Henry founded the Standard Steam Laundry (841 View Street), c.1905, a neighbourhood fixture for some 60 years until bought by Canadian Linen Supply Co in 1963.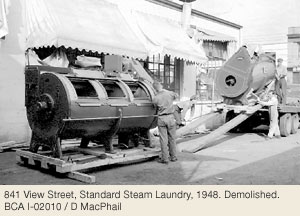 The Todd family owned the north side of Johnson Street between Quadra and Vancouver Streets for many years. Jacob Hunter Todd (1827-1899) came west in 1862 with his children Sara (638 Rockland Pl) and Charles (1041 St Charles St, Rockland). In 1874 he established the Horseshoe brand salmon-canning business at Yates and Wharf, and built Fairview House (with an unobstructed view of the Olympic Mountains) at 924 Johnson Street (architect Thomas Trounce, demolished by 1921) for his second wife Rosanna Wigley (1838-1931, 1525 Shasta Pl, Rockland), who lived there until 1904.

Son Charles joined the canning business, and built 952 Johnson Street (architect Samuel C. Burris) in 1884 when he married Louisa Norris; in 1904 they moved to Rockland. Another son, Bert Todd, had the October Mansion Apartments (This Old House Four) built in 1910 (extant) on Cook Street, between Fort and Meares Streets, by George Mesher as a wedding present for his wife Ada (721 Linden Av, Rockland).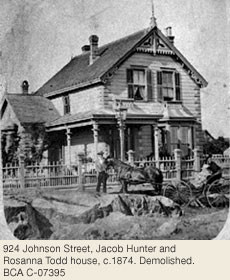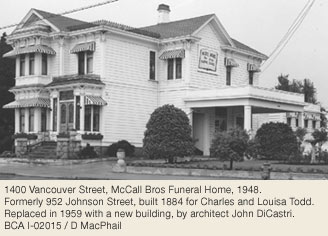 Fairview House was home to numerous families over the next 15 years, including Rosanna's daughter May and her husband J. Hebden Gillespie, (son of George and Florence Gillespie, 1021 Gillespie Pl, Rockland), secretary-treasurer of Plimley Automobile Company. The house was demolished by 1921, likely to accommodate an automobile business.

Another prominent local entrepreneur was Lee Mong Kow. He lived at 952 Johnson Street until c.1920. Kow built several substantial Chinatown buildings (including stores on Fan Tan Alley –1901, Thos. Hooper), while working for 45 years with Customs & Immigration. He moved back to Hong Kong as chief Chinese agent of the Pacific Steamship Co, but was killed in a car accident in 1924 at 63. By 1924, McCall Bros had established a funeral parlour at 952 Johnson, which became 1400 Vancouver Street c.1942. The house was demolished for office space in 1959, but some of its leaded glass was salvaged and re-used in the present building.
Changes to Harris Green occurred slowly. As downtown living became unfashionable for Victoria's elite who moved to more distant neighbourhoods such as Rockland, smaller single family dwellings were constructed, and existing large houses were converted to boarding houses, then torn down and replaced with businesses and lower income housing. Downtown expansion also began, bringing more commercial buildings to Harris Green. Many older homes were demolished starting in the 1920s, and by the 1930s the neighbourhood had become home to many automobile dealers.

Plimley's Used Cars at 1010 Yates Street, which conveniently also sold gas and was one of the most prominent of these dealerships, remained in the neighbourhood until the 1970s.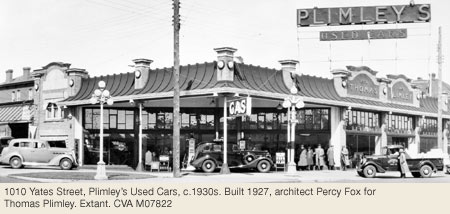 The Begg Motor Company, in the 800 and 900 Blocks of View Street for a number of years, was managed by Jim Wood (2667 Empire St, Oaklands) during the 1920s. Wilson Motors on Pandora formed the basis of the Wilson Centre, now Harris Green Village. A number of car dealerships still exist in the eastern section of Harris Green.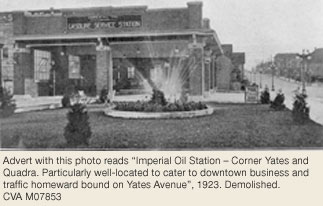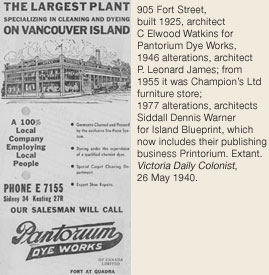 During the 1960s and 1970s, many rental projects for moderate to low income families were constructed in Harris Green. Examples are View Towers at 1147 Quadra Street, and The Chelsea at 865 Yates Street. Today the area has become popular with condominium developers whose luxury buildings are bringing higher income earners closer to the downtown core.