JAMES BAY

• James Bay Heritage Register Properties

• James Bay Neighbourhood Heritage Walking Tour

James Bay Neighbourhood History
By John Adams ©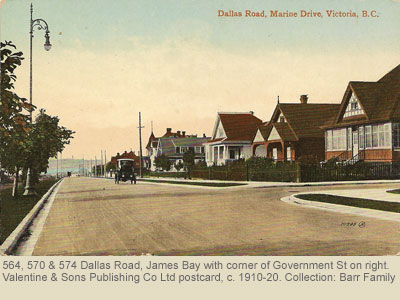 Victoria's most distinct neighbourhood geographically is James Bay, a peninsula with Beacon Hill Park on the east, the Inner Harbour on the north, Outer Harbour on the west and Strait of Juan de Fuca on the south. Compared with other neighbourhoods in Victoria, James Bay is relatively flat, but undulates gently. The soil is predominantly deep loam except for a few outcrops of bedrock on the shoreline. Its only prominent watercourse was Providence Pond (near the corner of Oswego Street and Superior Street), a swampy lake emptied by a stream that flowed into Major Bay (where Fisherman's Wharf Park is now).
Click on the titles below to reveal more information
---

James Bay derives its name from the body of water, named in honour of Sir James Douglas, which was a shallow tidal inlet extending from what is now called the Inner Harbour eastward almost to Blanshard Street, encompassing the present site of the Empress Hotel, Victoria Conference Centre and Crystal Garden. After Fort Victoria was built in 1843, the Hudson's Bay Company (HBC) established Beckley Farm on the James Bay Peninsula, and people went around the head of the bay to get there, but in 1859 a wooden piling bridge was built to span the water. After that people said they were going "across James Bay." Today the term "James Bay" is used almost exclusively for the neighbourhood, not the body of water.

The land of James Bay peninsula was the traditional territory of the Swengwhung tribe who belonged to the Lekwungen, a linguistic sub-group of Coast Salish whose descendants are part of Songhees First Nation. In 1850 when they conveyed the peninsula, with other land, to the HBC in return for £75, they no longer lived there, but their abandoned village sites dotted the shoreline (including remains of a fortification near Holland Point) and one of their burial grounds with mortuary poles still stood at Laurel Point. The HBC had the land surveyed. The northern area bounded by Toronto, Simcoe and Montreal Streets was subdivided, mostly into town lots; the tract south and west of those streets was retained by the HBC as farmland, for grazing cattle and raising grain and root crops. In the 1840s the farm was called Ogden Fields Farm; by the early 1850s it was known as Dutnall's Farm (after HBC farm bailiff John Dutnall); by 1855 it was called Beckley Farm, presumably after Beckley in Kent. The farmhouse and farm buildings stood near the southeast corner of Menzies and Simcoe Streets.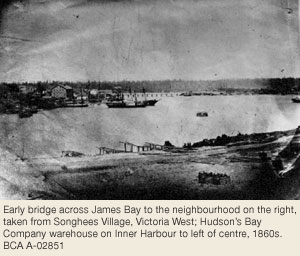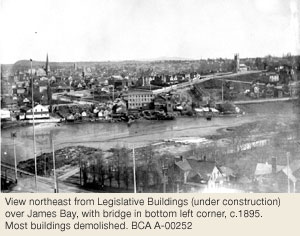 James Douglas, HBC chief factor, became the first substantial landowner in James Bay in 1851, when he bought Section VI – the block now bounded by Government, Belleville, Douglas and Superior Streets. He began construction of a fine home overlooking the waters of James Bay and his family moved in October 1852. James Bay House, demolished in 1906, stood on the present site of the Royal British Columbia Museum. In 1852 when eldest daughter Cecilia married Dr J.S. Helmcken, James Douglas gave his son-in-law an acre of land and the construction of Arbutus Lodge began. Now called Helmcken House (638 Elliot St) and operated as a museum, it is still on its original site. Indeed, it is the oldest house in the province on its original site, with the exception of Oak Bay's Tod House.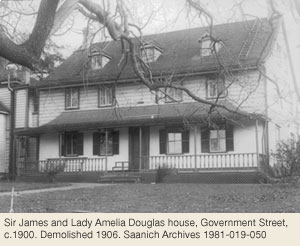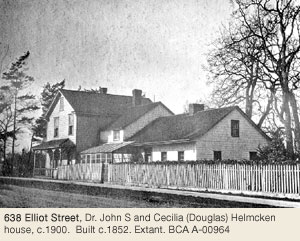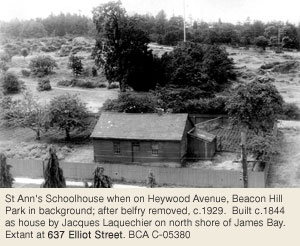 James Bay's earliest subdivision streets were named after places in eastern North America that were familiar to the HBC officers: Superior, Huron, Michigan, Belleville, Niagara, Ontario, Kingston, Montreal, Toronto, Oswego, Erie and Quebec. A few names have been changed, such as St. John, now Pendray Street, and Ottawa and Hamilton, now part of Dallas Road. Dallas itself (named after A.G. Dallas of the HBC) now skirts only the western and southern edges of James Bay, but once was the name popularly used for the entire shoreline roadway, including what is now Belleville Street.

The major impetus for James Bay's development as a residential suburb came in 1859 when Governor James Douglas built, across the harbour from Fort Victoria, new Colonial Administration Buildings where the Parliament Buildings are now. The series of buildings designed by H.O. Tiedemann were dubbed the Birdcages because their bell-cast roofs, half-timbering and ornate balconies gave them an exotic appearance. Moving the colonial offices to James Bay was daring because the new site was far removed from the centre of business activity in downtown Victoria. Douglas was accused of choosing the location because it was next door to his own house, thus enhancing his own property values. The bridge he had built across the bay in 1859, ostensibly to connect the Birdcages with downtown, was seen as another self-serving act. The governor denied conflict of interest, but was quick to take advantage of the situation by pushing a road through the western edge of his property from the south end of the James Bay Bridge, and creating lots along the thoroughfare, which he named Birdcage Walk. The resulting subdivision, Birdcage Terrace, became a fashionable address lined with Italianate and Gothic villas for civil servants, business and professional people. The Walk extended to the south of Douglas's property and in the mid-1880s a matching pair of Italianate houses were built there for Hon. John Robson and his son-in-law Joseph Hunter (506 & 514 Government St).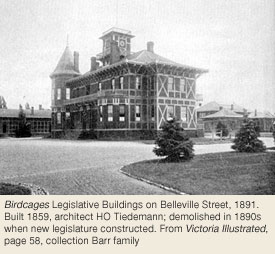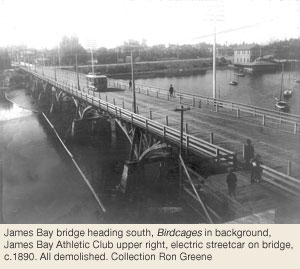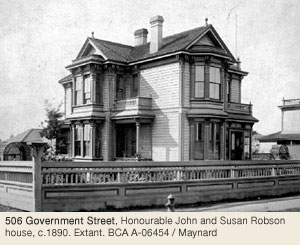 Birdcage Walk terminated at Michigan Street and in the 1860s Michigan near Beacon Hill Park became a very fashionable enclave, with fine homes for HBC accountant Alexander Munro (where South Park School playground is now), banker A.D. Macdonald (whose brick mansion, Springfield, stood where Orchard House, a high-rise apartment block, is now) and colonial secretary W.A.G. Young (at the southeast corner of Michigan and Young Streets).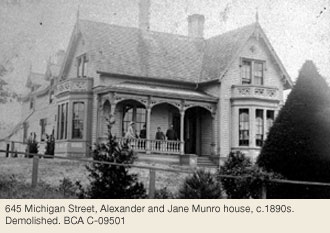 Another fashionable residential area was Menzies Street opposite the Birdcages and the south side of Belleville Street facing the harbour where a number of industrialists and sea captains chose to build. Their view of the harbour was unobstructed until about 1900, when the CPR decided to move its shipping terminal there from Wharf St. Fairview (demolished) on the corner of Menzies and Quebec Streets was best known as the home of Robert and Joan Dunsmuir before they built Craigdarroch Castle (1050 Joan Cr, Rockland). Starting in the late 1950s, Fairview and most of the houses along Belleville were replaced by motels, except on one block.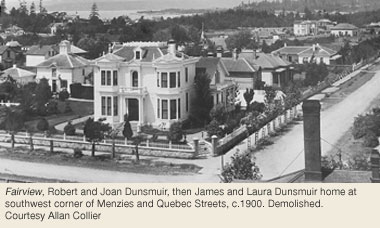 The Italianate-style houses built in 1877 for Alexander B. Gray (327 Belleville St) and James Clark (321 Belleville St) are the oldest of this early grouping still there. Two doors away, industrialist W.J. Pendray had a picturesque Queen Anne style mansion built in 1895 (309 Belleville St). It is now a restaurant and B&B. The painted ceilings, tiled fireplaces and monogrammed stained glass windows are still intact. The Pendrays' topiary garden was a popular tourist stop and the most photographed garden in Victoria before the Butchart Gardens opened on the Saanich Peninsula.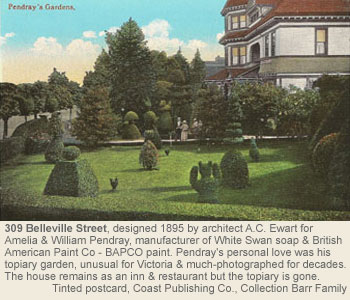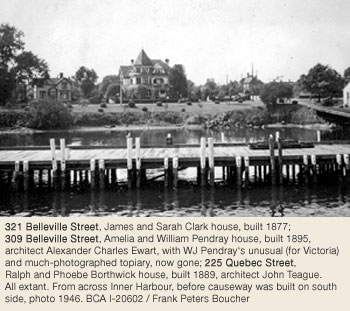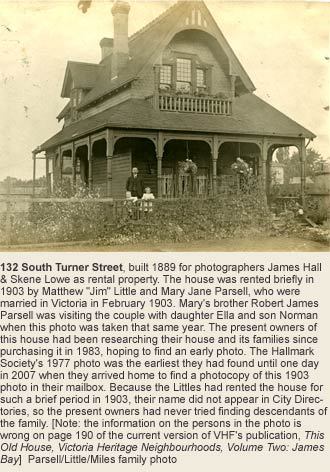 In the late 19th century, prosperity was synonymous with industrial development and the James Bay waterfront was ideally suited for this. Robert Laing's shipyard (where Fisherman's Wharf is now) was producing steamboats by at least 1861. By the 1870s small marine ways were appearing around the waterfront below Kingston and Montreal Streets, and Jacob Sehl established his furniture factory at Laurel Point in the late 1870s. When Sehl's factory burned, the site was purchased by William Pendray for his soap works and later Bapco paint factory. Pendray's factory originally stood on the north shore of the James Bay mudflats, but in 1900 a long-awaited scheme saw the construction of a stone retaining wall across the mouth of the bay. The mud flats were filled in and the Empress Hotel was built on the reclaimed land. This civic beautification was encouraged by the completion of the new Parliament Buildings in 1898, designed by Francis M. Rattenbury. In 1904 Rattenbury designed a wooden marine terminal for the Canadian Pacific Railway (CPR) at the foot of Menzies and in 1923, in conjunction with Percy Leonard James, designed a grander replacement (468 Belleville St). From 1900 until the 1970s the CPR's docks and steamers dominated the James Bay harbourfront, and though they have gone, the shoreline remains a marine transportation centre.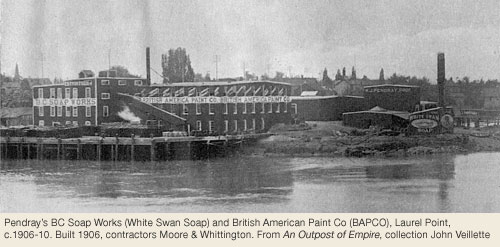 In 1872 a large tract of open land near Ogden Point was set aside for a new civic cemetery, to replace the Old Quadra Street Burying Ground. Opposition to the site by nearby landowners forced the Cemetery Trustees to buy thirteen acres at Ross Bay instead. The Cemetery Trust lands were subdivided and sold through the 1870s and early 1880s. On one portion Welch, Rithet & Company began construction of a deep-sea shipping terminal in the 1880s (now the site of the Coast Guard Station at the foot of Ontario Street) that became known as the Outer Wharf. The adjacent shoreline gradually became heavily industrialized with a flourmill, a chemical plant and warehouses. In 1891 the Dallas Hotel was built on Dallas Road at Ontario Street, designed by architect Edward McCoskrie, to cater to passengers travelling by ship to and from San Francisco and the Orient. The federal government opened an immigration building opposite the wharves (at Dallas Road and Ontario) and in 1908 built a new stone and brick structure there (demolished), which served as a detention centre for immigrants from China. Senator W.J. Macdonald purchased 28 acres at Ogden Point beside the Cemetery Trust lands and in 1876 had Thomas Trounce design Armadale, a massive stone house reputedly modelled after Armadale Castle on the Isle of Skye. Macdonald Park now occupies part of the estate.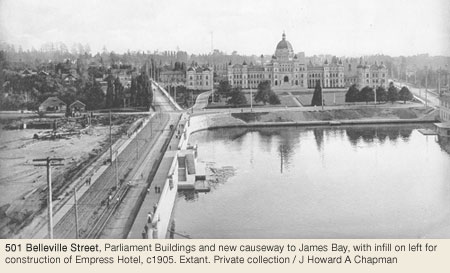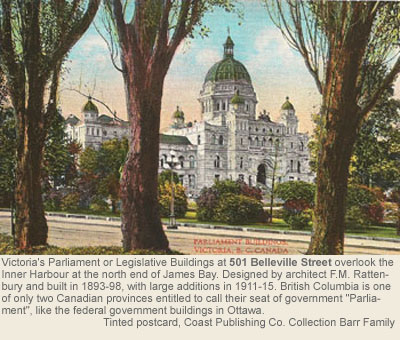 The opening of Panama Canal in August 1914 encouraged more industrial development in the vicinity of Ogden Point. A breakwater was constructed during WWI and the Ogden Point Docks were opened to deep-sea shipping. In the late 1920s a grain elevator was built and later a fish processing plant, both served by a railway barge slip. During World War II the former Outer Wharf became a major ship building facility for the Victoria Machinery Depot. The old Armadale Estate was subdivided, Pilot and Dock Streets were opened up and "Wartime houses," affordable houses for the shipyard workers, were constructed.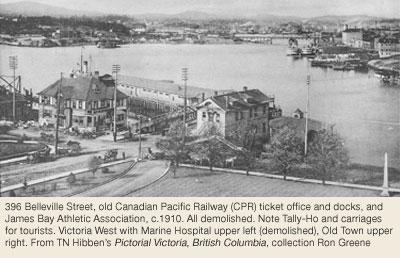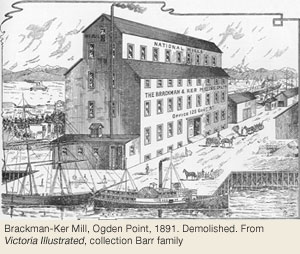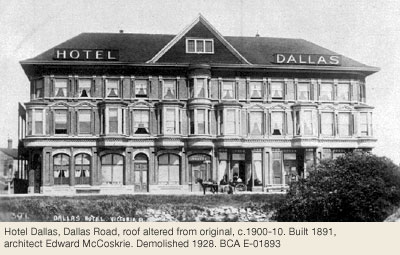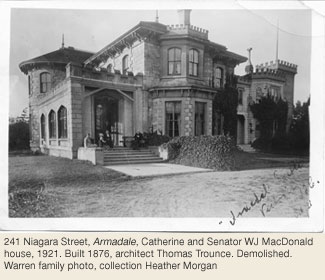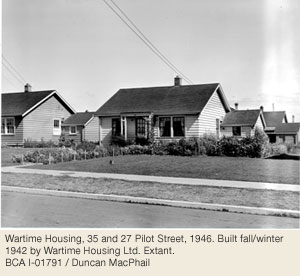 Starting in the 1860s trades and working class people purchased modest houses on town lots a few streets away from the harbour and generally farther away from the James Bay Bridge. Thus Quebec, Superior, Kingston and Michigan Streets west of Birdcage Walk became popular residential areas. During the 1890s many more homes for middle class and working class families were constructed. Of the dozens of houses built on these streets in the 1860s and 1870s, the James Irving House at 428 Superior Street (1873) is a notable survivor. In the 1880s and 1890s houses for longshoremen at the Outer Wharf and other workers were clustered along St. Lawrence, Ontario, Erie, Quebec, Kingston and Superior Streets. Though hundreds of houses were demolished in the 1950s and 1960s to make way for apartment blocks, enclaves of 1890s houses survive.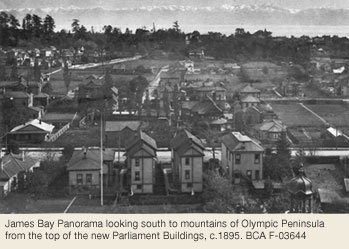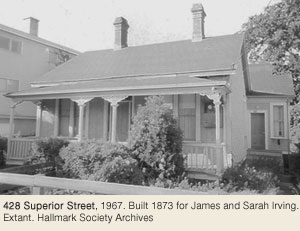 For those who wanted country living in the 1860s and 1870s, James Bay had much to offer. James Bissett, an HBC employee, purchased part of Beckley Farm and in 1861 engaged Wright & Sanders to design Woodlands, an Italianate villa facing Simcoe Street (moved and renovated by Samuel Maclure in 1909, at 140 Government Street). Nearby, wholesale merchant Richard Carr had Wright & Sanders design another Italianate villa in 1863. Carr House National Historic Site at 207 Government St was the birthplace of Emily Carr in 1871. As a girl she often walked past the gun batteries erected at Victoria Point (Dallas Road at the foot of Olympia Avenue) and Finlayson Point overlooking the Strait of Juan de Fuca. Built in 1878 they were a precaution in case of a Russian invasion. When Battery Street was laid out in the late 1880s it derived its name from these defences.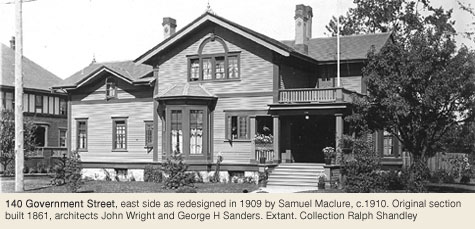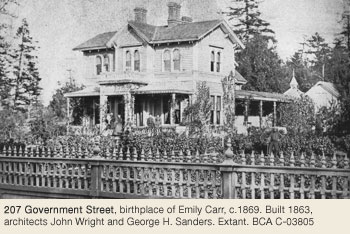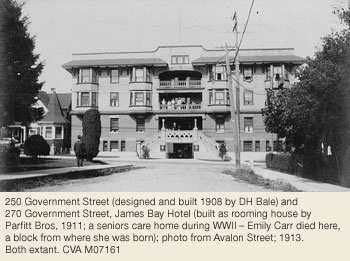 It was not until the late 1880s and 1890s that living in the southern end of James Bay, closer to the Strait of Juan de Fuca, became popular, in large part because the electric street railway ran lines to the Outer Wharf, along Menzies and Niagara Streets to Beacon Hill Park. Here large homes were interspersed with subdivisions of smaller ones. Dr. Charles Newcombe's house (138 Dallas Rd) overlooking Ogden Point and the Macaulays' Queen Anne mansion, Pinehurst, (originally fronting Dallas, now off 617 Battery St) are two notable surviving mansions. The east sides of Oswego, San Jose and Lewis Streets comprise almost intact streetscapes of modest houses of the late 1800s and early 1900s, but nearby streets boast many other working and middle class enclaves, notably along Niagara, Menzies, Rithet, South Turner, lower Government, Toronto, Heather, Parry, Battery and Alma Place (off Michigan) and Avalon.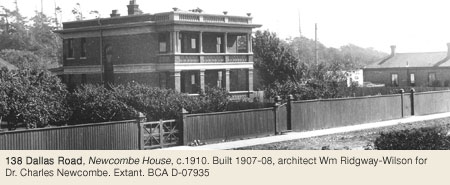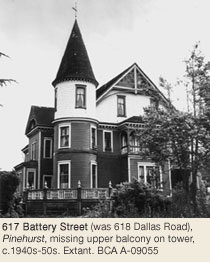 One of the last blocks to be developed was the Caledonian Grounds, a playing field bounded by Government, Niagara, St. Andrews and Simcoe Streets, owned by the St. Andrews and Caledonian Society. In 1907 the land was subdivided and the road running along the eastern side became St. Andrews Street. Before 1905 the road running along its western side was called Carr Street, but the filling in of the James Bay mudflats prompted a change. Government was extended from downtown along the new the Causeway over the reclaimed land, along Birdcage Walk, through Mrs. McConnell's cow field and along Carr Street to Dallas Road.

Douglas Street (originally K(C)atherine) beside Beacon Hill Park was not opened up until the 1890s, and then became the most fashionable address in James Bay. In the 1960s and 1970s many of the fine homes gave way to high rise apartment blocks, but among the remaining homes are a large Arts & Crafts bungalow for the Bownass family by Seattle architect Jud Yoho (20 Douglas St) and two examples by Samuel Maclure: the Kent House (228 Douglas Street) and the Hanna House (28 Douglas St).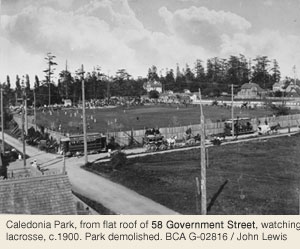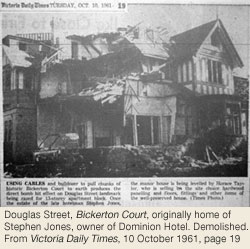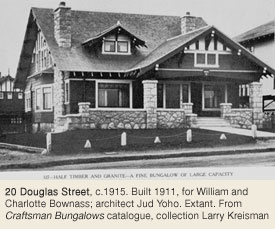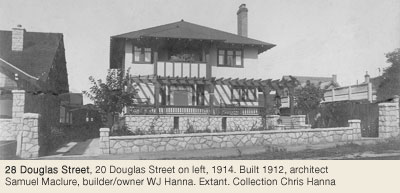 James Bay, Victoria's oldest residential neighbourhood, has also been an area of mixed use for most of its existence. It has been the neighbourhood most affected by development, with the result that few buildings from the 1850s through the 1870s survive. Many houses that stood until the 1950s were the target of post-World War II redevelopments that saw three-storey and high-rise apartments sprout up all through James Bay. A grass-roots heritage movement developed in James Bay in the early 1970s and resulted in many remaining houses being saved from the wrecker's ball. Very much a vibrant, mixed-use neighbourhood that continues to see rapid changes, James Bay now boasts a stock of well-maintained heritage buildings and streetscapes that include some of the oldest in Victoria.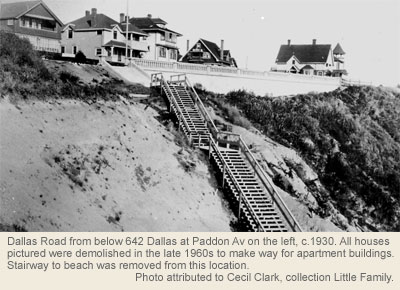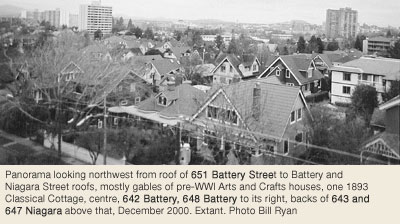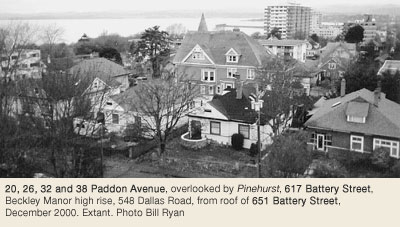 Adaptive re-use features in James Bay's heritage conservation. Restaurants occupy two heritage houses (
309 Belleville St
,
225 Quebec St
). Multi-unit residential conversions occupy many formerly single-family houses (
617 Battery St
,
24, 28
,
120
&
228 Douglas St
,
334 Michigan St
,
138 Dallas Rd
). Offices occupy others (
506
&
514 Government S
t,
601-603 Superior St
). Transient accommodation is a popular use (
670 Battery St
,
309
,
321
&
327 Belleville St
,
243 Kingston St
), and several other B&Bs. A church school is now a private residence (
520 Niagara St
) and a church sailors' institute is a restaurant and private residence (
106 Superior St
). Moving heritage buildings is discouraged, but in 2016 moving enabled five houses used as government offices once again converted to residential use (
580
,
584
&
588 Michigan Sts
and
222
&
226 Dallas Rds
).