NORTH PARK
North Park Neighbourhood History
Maryanne McGrath © Victoria Heritage Foundation
North Park is one of Victoria's oldest residential neighbourhoods, and maintains its historical character of a diverse mixed-use community, bounded by Bay, Blanshard, Cook, and Pandora Streets. This is Victoria's second smallest neighbourhood, after Harris Green, at one square kilometre or about 18 blocks. It is primarily a residential community, grounded by businesses, recreational facilities, and religious landmarks.

Click on the titles below to reveal more information
---

The southern portion of the neighbourhood was built on Suburban Five-Acre lots, developed early; this area eventually became the business core of the neighbourhood. They were created as part of the HBC's early town plans. These lots were not intended to be subdivided for residential use; however their proximity to the townsite contributed to their subdivision within a short period of time. The Colonist advertised lot sales as early as 1864, and by 1872 only four of the 20 five-acre lots remained, while the rest had been subdivided into many small lots. Fire insurance maps from 1885 indicate the area had been developed fairly extensively. In 1890 the electric streetcar line was brought into the area and this accelerated development.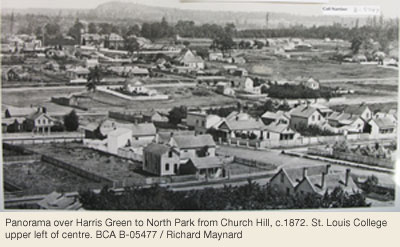 George Mason arrived in Victoria on the Norman Morison in 1851. One of Victoria's first brick makers, he bought Five-Acre Suburban Lot X in 1856. He built a 2-storey brick residence (916 Pandora Av) on lot 4 of the property, perhaps as early as 1863. An economic downshift forced Mason to sell off most of this property, including the brick house, by 1867.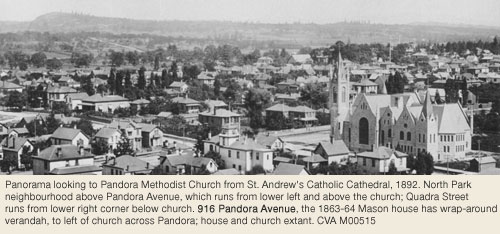 The street running through the centre of Lot X was named Mason Street, after George Mason. The other half of Mason Street running through Suburban Lot 5 between Quadra and Vancouver was named for Henry Slye Mason, who arrived in Victoria in the 1860s on the Norman Morison. Henry was registrar-general of the Crown Colony of BC before he was called to the BC bar in 1873. In 1870 he married Annie Eliza Thorne, who came to Victoria from England in 1853. These Masons never lived in North Park, but on Government Street (Birdcage Walk) and Dallas Road.


Henry Rhodes had his magnificent residence Maplehurst built at 1937 Blanshard Street in the early 1860s. Henry, born in London, England, moved to the Sandwich Islands (now Hawaii) in 1845. He came to Victoria with his family on the Eliza and Ella in 1858. Henry served as Hawaiian consul, and in 1875 was appointed Swedish and Norwegian consul. He was also elected to the BC Legislature in 1865. He was a pioneer merchant, and his company was located on Store Street. Henry died at Maplehurst in 1878. His wife Sophia Harriet lived there until her death in 1899. The Rhodes had five daughters and three sons. In 1875 Annie Isabella married Richard William Janion, son of Henry's old business partner Robert Cheshyre Janion, who built the Janion Hotel in 1891.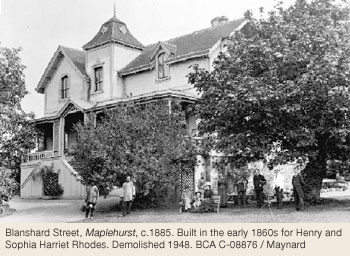 In 1879, youngest daughter Sophia Edith Rhodes married George Anthony Walkem, and he moved into Maplehurst. George came to Canada from Ireland in 1847, and took law at McGill University. He practised in the Cariboo for a number of years, and was elected MLA for the region. In 1874 Walkem was appointed BC's third premier after De Cosmos resigned. He held the office until 1876, and again in 1878-82. He then returned to law and became Chief Justice of the BC Supreme Court. Sophia died in 1902, George retired in 1903 and died at Maplehurst in 1909. It became a rooming house, and then was demolished in 1948 to make way for the Memorial Arena.

Another early North Park builder was Samuel Thomas Styles, who arrived in Victoria from England c.1870. He and partner John Kinsman established one of the province's earliest building and contracting firms. Samuel built a series of workers cottages on Amelia Street, the earliest in c.1871 (1519 Amelia St) for himself and his family. Six of these 2-storey cottages remain today, mostly as businesses, but they were rental homes for many years. Styles was responsible for many other early buildings, including the naval buildings in Esquimalt.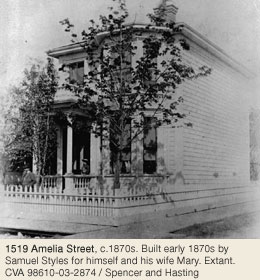 The northern portion of North Park was developed much later than the southern, because it was originally part of Roderick and Sarah Finlayson's Rock Bay farm estate, which was bounded by Bay, Government, Chambers and Pembroke Streets. Finlayson, an HBC Chief Factor, was in charge of Fort Victoria from 1844-49. He purchased 103 acres from the HBC in 1851, and built his residence, Rock Bay, in the block bounded by today's Douglas, Bay and Government Streets, and Queens Avenue. After Roderick's death in 1892 and Sarah's in 1906, the estate was subdivided. One of the first things done was blasting the rock for Bay Street between Wark and Quadra Streets. The sale of the subdivided lots was geared towards wage earners and investors, attesting to the area's eventual development as a neighbourhood for renters and average-income earners.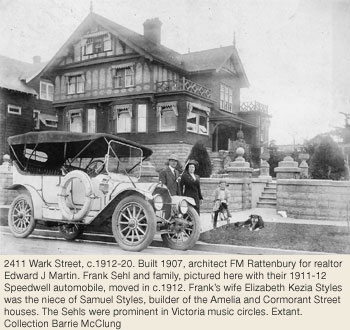 Some of Victoria's oldest and best apartment blocks are in North Park, some with accommodation for shops on the main level. Several of the blocks have been demolished, but others remain as key elements of the historical residential character of the neighbourhood. The Abbey apartments at 1702 Quadra Street at Fisgard Street were designed by C. Elwood Watkins and built in 1911 for K.J. Lee Dye as shops on the main floor with stables behind and apartments above. The Bon Air Apartments at 2401-07 Quadra Street were built in 1912 for William Kettle, and designed by Beers & Telford. This building is now stuccoed, but retains many of its original features, including its original use as an apartment building. Central Park Apartments at 1010 Queens Avenue was built in 1913-14, for and by Thurston and Johnson Fairhurst from Wigan, Lancashire, England. By 1917 they were in active service, Thurston as a gunner at Signal Hill Battery, Esquimalt. The brick Montana Apartments at 1010 Empress Avenue were built in 1912 for Mrs. Martha J. Muldoon who also owned the James Bay Hotel. In 1912, the Bon Accord Apartments at 845 Princess Avenue were built for Margaret Duncan Christie, who was a Victoria School Board Trustee from 1931 and the first female City of Victoria Councillor from 1944-54. Her daughter Lily Wilson served on Council from 1956-69. Maggie's husband Alexander was the department manager of Dixi H. Ross & Co on Government Street. The family lived at 1296 Richardson Street for many years. Funeral parlour proprietor Mason Sands commissioned Johnson & Stockdill to build the Sandholme Apartments at 2450 Quadra Street in 1941.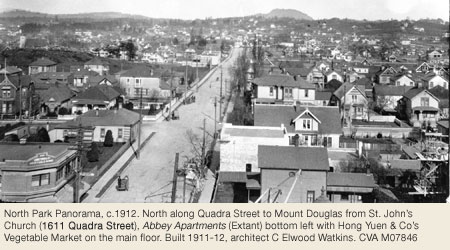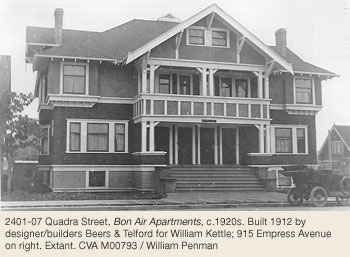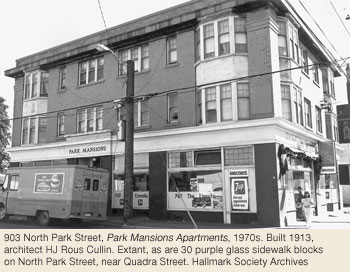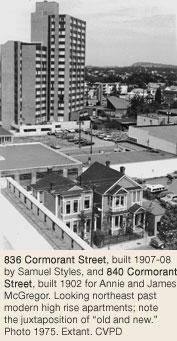 Many homes were built in North Park from 1907 until the beginning of WWI, coinciding with Victoria's greatest building boom, although the market had begun to collapse by 1913. The neighbourhood was close to downtown and City Hall. Several new schools were built nearby, including George Jay Elementary (1118 Princess Av, Fernwood, 1909), and the many churches of various denominations along Quadra Street (three of them detailed in This Old House Three) drew residents into the area. North Park was and is Victoria's recreational hub, with Royal Athletic Park, Central Park and the Crystal Pool, the Curling Club, and the Save-on-Foods Memorial Centre (formerly the site of the Memorial Arena).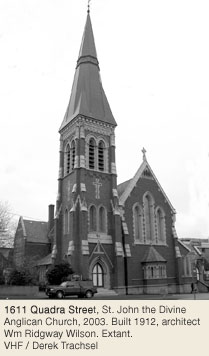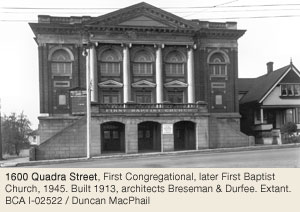 The City of Victoria acquired Central Park, an 8-acre parcel of land, from the Finlayson Estate in 1906. The city's second oldest park, it is still used for ballgames and other community events. Royal Athletic Park (RAP) had been used as a playing field since about 1902, and for professional baseball since 1908, although it was private land in the estate of Grace Parshalle until the City purchased it in 1925 for about $30,000. Since then, various improvements have been made to serve the community's needs, with extensive restoration after a 1967 fire. In 2007 RAP was the site of Group F of the Under-20 World Cup of Soccer games. The Memorial Arena, affectionately known as the "Barn on Blanshard," was built in 1948 and served Victoria for nearly 60 years until it was replaced by the Save-on-Foods Memorial Centre, completed in 2005. The Curling Club was built in 1952, to supplement the Memorial Arena. The Crystal Pool, designed by architect John Di Castri, was built in 1971. For many years it was Victoria's only Olympic-sized swimming pool.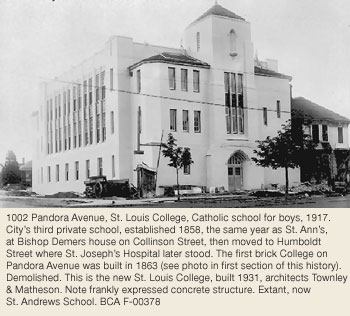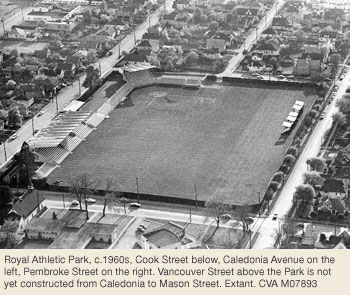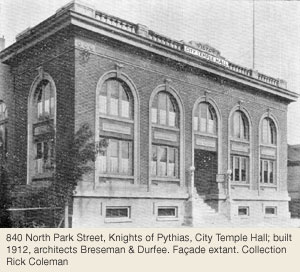 The newly developing area of North Park was one of the first suburban neighbourhoods to which wealthy Chinese businessmen and their families moved from Chinatown before WWI, due to its proximity to Chinatown. Possibly the finest house in the area, Lim Bang's at 952 Queens Avenue, is now gone, but the original property wall remains at the NW corner with Vancouver Street. By WWII, there were many Chinese families here, including the Lees and Tongs on Empress Avenue, the Chus, Lowes and Wongs on Queens Avenue, the Lou-Poys, Lowes and Wongs on Pembroke Street, the Chans and Quans on Cook Street, and the Joes on Vancouver Street. Chinese families were also prominent on Herald, Fisgard and Cormorant Streets. Their children went to George Jay School (1118 Princess Av, Fernwood) for regular schooling and the Chinese School at 636 Fisgard Street downtown after hours.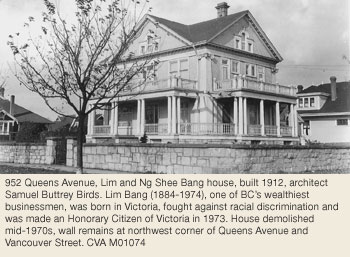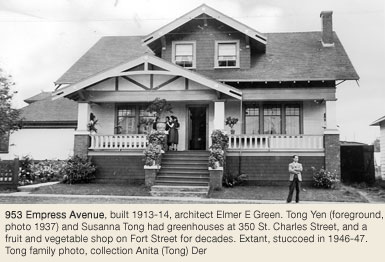 North Park has been home to several prominent businesses. Chinese-owned laundries were prolific in the area in the early 1900s. Palm Dairies was located at 930 North Park Street from 1930 through the 1960s. Beatrice Foods Inc bought out the Prairie-based company in 1990. David William Hanbury operated the Golden West Bakery at 2120 Quadra Street c.1911 until the late 1920s, when his son Evan Hughes Hanbury took over operations. He sold it to McGavin's Bakery c.1938, and continued managing it for many years. Well-known Victoria contractors Luney Brothers had a shop and building yard where Island Farms and John's Noodle Village are located today.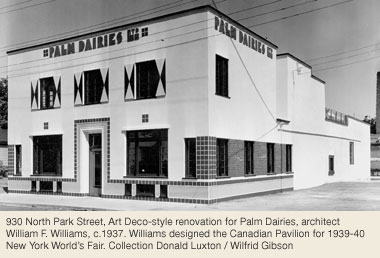 This neighbourhood was home to an unusually high number of funeral parlours. Two prominent examples were Thomson and Sands. The Thomson Funeral Home was located at 1625 Quadra Street by 1921. Proprietor Frank Landon Thomson worked with William James Hanna in 1914, and by 1917 had established his own business on Pandora Street before moving to the North Park neighbourhood several years later.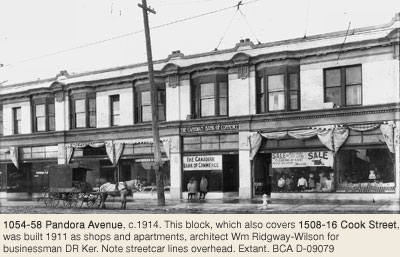 Mason "Pops" Sands founded Sands Funeral Parlour in 1913, when he bought out the shares of his business partner, Mr. Fulton. They had established a small funeral parlour at 1515 Quadra Street in 1912. Booming business necessitated a move to a larger building at 1612 Quadra Street, which is now the Rose Manor Apartments. The business moved in 1a933 to 1803 Quadra Street, designed in the Spanish Mission style by architect C. Elwood Watkins. Sands now has four funeral chapels on Vancouver Island.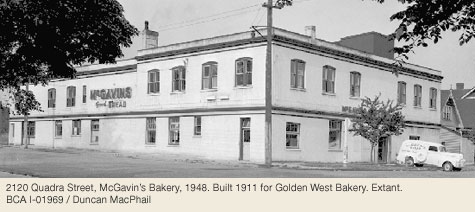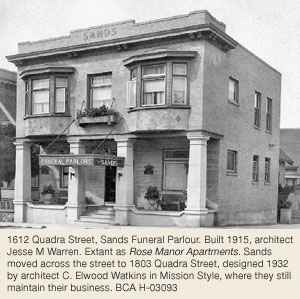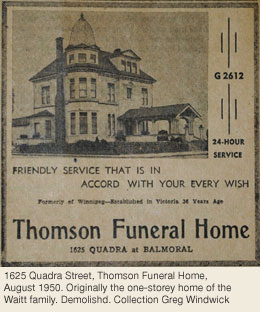 The neighbourhood's street names reflect its historical character. Many of them changed in 1907, along with Victoria's street-numbering system. Chatham was changed to Caledonia Street, Pioneer to North Park Street, and Farquhar/Mason/St. Louis to Mason Street at this point. Balmoral Road was not adopted until about 1920, when residents petitioned the City to change the street's name from Fisgard, saying that it was not an appropriate name for their neighbourhood. Wark Street was named for Hudson's Bay Company (HBC) Factor and pioneer John Work of Hillside Farm. John adopted Work, the anglicized version of the Irish Wark, when he joined the HBC. The street, originally named Work, was later changed to Wark. City Archivist Ainslie Helmcken (1015 Moss St, Rockland) was responsible for naming Dowler Place in 1969, after an 1890s North Ward schoolteacher. Her brother Wellington was a Victoria city clerk from 1888 to 1918. He lived on Blanshard Street near Caledonia.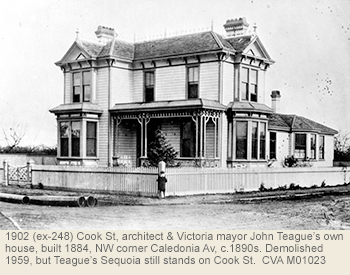 The boulevard trees, many planted in the 1920's and '30s, include: early-flowering Purple-Leaved Plum on Princess Avenue and on Vancouver Street north of Queens Avenue; Double White Hawthorn on Queens, which is joined by Schwedler's Norway Maple west of Quadra Street; and False Acacia, Sycamore Maple, London Plane and Doubleflower Chestnut on Vancouver Street by Central Park. In the 1950s Cockspur Hawthorn and Silver Birch were planted on Empress Avenue.