OAKLANDS

• Oaklands Heritage Register Properties

• Back to list of Neighbourhoods

Photos used in this history generally show buildings not on the City's Heritage Register. Some still exist but many are demolished. We hope that these, along with photos of streetscapes as they used to be, will give the reader a sense of the neighbourhood as it was in the past.
Addresses in bold refer to buildings on the City's Heritage Register, described in detail in our This Old House series.
Oaklands Neighbourhood History
By Maryanne McGrath © 2007 Victoria Heritage Foundation

Oaklands is an expansive and primarily residential neighbourhood in the NE corner of Victoria, bounded by North Dairy, Shelbourne, Haultain, and Cook Streets. The majority of development occurred between WWI and WWII, and before this, vast sections of the area west of Bowker Creek and the Hillside Shopping Centre area were farmland. There were areas of swampland along Haultain Street.
Click on the titles below to reveal more information
---

When the City was surveyed in the 1850s, the land north of Ryan St, later known as Section 29, was allotted to John Ross and he called it Oakland Farm Estate. The land south of Ryan Street became part of Roderick Finlayson's estate. Section 48, as it was later known, remained in the family until the early 1900s.

John Ross was the eldest son of Isabella and Charles Ross, Hudson Bay Co Chief Trader in Charge at Fort Victoria. After Charles died in 1844, John became Roderick Finlayson's assistant. John married Genevieve Plamondon, daughter of Simon Bonaparte Plamondon who worked for the HBC at Fort Langley c.1827-1830. John and Genevieve cleared land among the Garry oak meadows for Oakland Farm, built a substantial farmhouse, and had at least six children between 1854 and 1862. John died in 1863 at 41, and Genevieve lived on Foul Bay Road, likely at the Ross farm in Ross Bay, through the 1870s. Oakland Estate became the property of the HBC by 1866, and farm manager Mr. Harvey produced quality crops for the company.

Twin Oak Farm was about 82 acres on Cedar Hill Road near or part of the Oakland Estate. It was possibly established in 1856 by John McDougal, who later moved to the Okanagan with his aboriginal wife Emilie and their sons. Charles Alfred Bayley owned the farm for 14 months, but sold because it didn't make money. Bayley was variously a hotelier, teacher, and MLA. He left for San Francisco in the 1860s and died there in 1889. George Tomline Gordon bought the farm in 1861, and then it was sold at government auction in 1862. It was auctioned again for Lewis Dodgson, cattle dealer, in 1866, although he was still listed as a farmer at Twin Oak Farm in 1871. John Burrowes, who came to Canada from England in 1865, was the leaseholder in 1875, and died there in 1882 at 78. The farm was then sold for $6,000, likely to Napoleon Sabin (1845-1911). He came to BC from Quebec with his Scottish wife Margaret (1852-1888) in 1861, then to Victoria and won a paving contract for Wharf St. Margaret died at Twin Oak, Napoleon married Catherine Farrington in 1889, and lived on the farm until c.1900. He died in Colwood.

Area pioneers included Andrew Ohlson (1846-1930) and wife Palla (Neilson, 1850-1933) who came to BC from Sweden in 1875. They lived at 1580 Hillside Avenue at Doncaster Drive until their deaths. Neighbours across the street, George and Cecilia Powers, later moved to 1431 Vining St (Fernwood). The Ohlsons established Oaklands Nurseries shortly after their arrival, and operated it until their deaths. During his lengthy career Andrew was also a BC Government fruit inspector. Oaklands Nursery was in operation until the late 1950s, and several large greenhouses occupied lots at Doncaster and Hillside. A Chinese-owned vegetable garden was located next to the nursery at the end of Scott Street. Hillside Shopping Centre was built on this site in 1962.

Watson Clark (1845-1913) came to Victoria from England with his wife Jane (Westall, 1851-1935) in 1887. He farmed on the north side of what is now Oakland Avenue, near his house at 2821 Gosworth Road. Watson was a successful wheat farmer, and when he retired in 1911, his was the last field within Victoria city limits. After his death, the land was subdivided and many houses were built. Jane moved to Shawnigan Lake, where she died in 1935.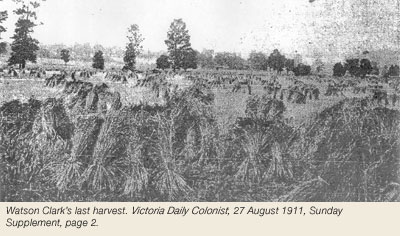 Although Oaklands was primarily rural during its early history, there were at least a handful of non-agricultural establishments in the area. The Oaklands Hotel opened on Cedar Hill Road in 1864. Aimé Leclaire (1829-1886) was the proprietor for several years, with his wife Maria Grant. Leclaire had been an overseer of Finlayson's Farm in the late-1850s, and later operated a nursery garden on Cedar Hill Road, which he sold in 1872. The hotel burned down in 1871 during a ball while William Farron (916 Pandora Av, North Park) was the owner.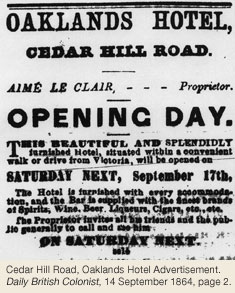 The majority of the roads running through Oaklands were not created until subdivisions were developed in the early 1900s, but Cedar Hill Road's existence dates to the early 1850s as it led
to Cedar Hill (now Mt Douglas) where HBC men hunted, and the early farms in what is now Gordon Head in Saanich. Hillside Av was also built quite early, but existed as Lan(d)sdowne Road east of Cedar Hill Road until 1912. Gosworth Road, Edgeware Road and Shakespeare Street (originally Amethyst Street – it once ran all the way through to North Dairy Avenue) all date back to the 1890s. The portion of Doncaster Drive below Hillside Avenue was called Ruby Road until the early 1900s. Shelbourne Street, named after Governor General Lord Shelbourne Lansdowne, originally developed as a route for Gordon Head farmers and was improved in 1915. Trees planted on Shelbourne Street in 1921 are a memorial to WWI soldiers.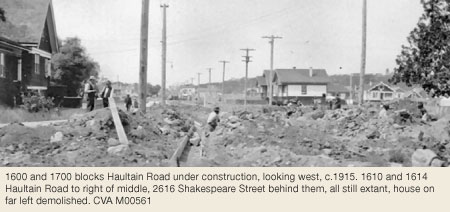 Before the streetcar line came up Hillside Avenue to Cedar Hill Road in the early 1900s, public transportation to the northern portion of the neighbourhood was lacking, although entrepreneurs operated private stage lines to the neighbourhood. W.B.C. Mewburn ran The Mount Tolmie & Oaklands "Tally Ho" Stage in the 1890s. Mewburn was a carpenter in James Bay in 1892. By 1895 he was living in Oaklands as postmaster and proprietor of a grocery store. He appears to have left the City by 1900.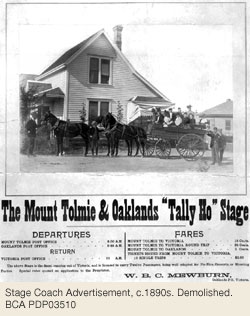 Although the area was surveyed as residential lots in the 1880s, the first significant building boom wasn't until 1909-13. As older farmers died off, their properties were subdivided into residential lots. Auction sales were common, and in June 1909 the area bounded by Ryan Street, Haultain Street and Kings Road on the former Finlayson Estate was subdivided and sold. Henry Emmanuel Levy (2667 Empire St) developed 24 lots on Edgeware Road in 1912-14. Although known for his restaurant on Government Street, he also dabbled in real estate, owning over 50 houses in the City at one point. Another development known as the Hillside Addition was built in 1913 between North Dairy Road and Hillside Avenue, beside Oaklands Nursery where Hillside Shopping Centre is today. These developments catered to moderate-income earners, and were valued for being within City Limits, and the new residents were accommodated by an extension of the streetcar line along Hillside Avenue.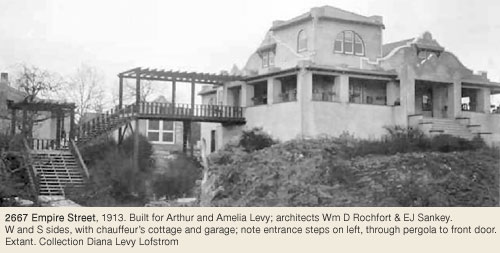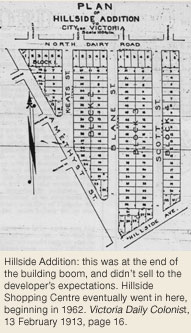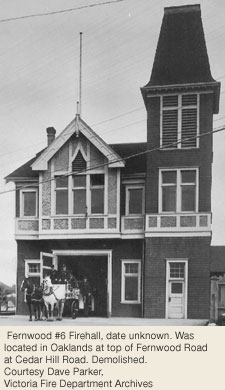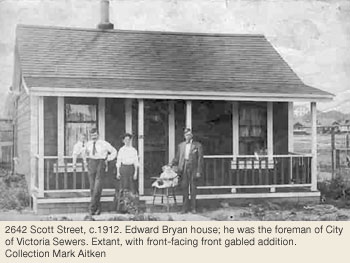 The Jewish Cemetery west of Cedar Hill Road near Ryan Place was consecrated in 1859, 13 years before Ross Bay Cemetery was founded. The Jewish Cemetery remained quite isolated until the early 1900s, when residential development began in the area. The BC Protestant Orphanage, now Bishop Cridge Centre (1190 Kings Rd), opened at Cook Street and Hillside Avenue in 1893.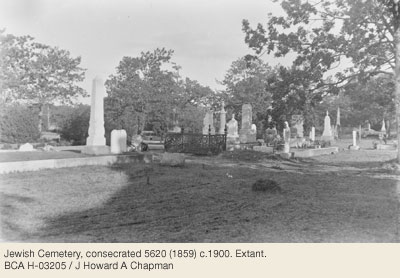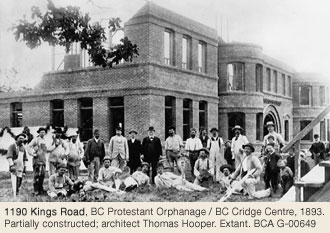 The pre-WWI population boom increase resulted in the construction of Oaklands School (2827 Belmont Av) in 1913, and the demand for local religious services. The Christian Brethren established a Sunday school at the Galloway home at 1250 Acton Street (extant) in 1911. The following year, Gospel services were held above a shop at the corner of Cedar Hill Road and Hillside Avenue. Families from Victoria Gospel Hall on Blanshard Street saw the need for a new assembly, and Oaklands Gospel Hall was built at 2815 Cedar Hill Road in 1914. Further growth resulted in 1956 in the Oaklands Chapel at Fernwood and Cedar Hill Roads. The Good Shepherd Lutheran Church presently owns 2815 Cedar Hill Road.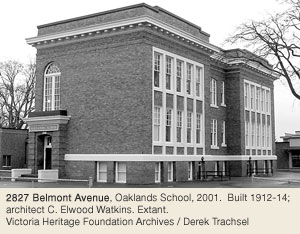 The Oaklands Methodist (United) Church was built at 2841 Gosworth Road in 1913. It became the United Church Sunday School in the early 1940s. By 1975, it was Gosworth Road Community Church, and is now the Chinese Alliance Church. The Anglican Diocese built the Church of St. Mary Magdalene at 2801 Gosworth Road in 1915, as part of St. Alban's Parish; it originated as Oaklands Mission in 1913. In 1925 the Parish was transferred to St. Barnabas. St. Alban's, independent since 1946, is now at 1468 Ryan Street.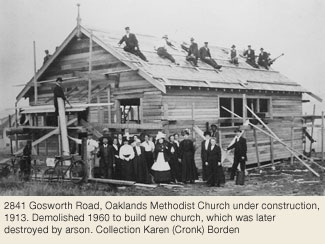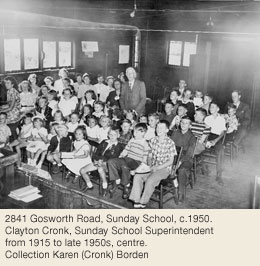 In 1935 Victoria was hit by three days of devastating rainfall. Up to four feet of water flooded the low-lying areas of Fernwood and Oaklands. Economic conditions of the Great Depression did not allow for much compensation for the many homes and businesses damaged by the flooding. Bowker Creek runs down along Shelbourne Street and Maplewood Avenue (Saanich) and joins at North Dairy Road at Doncaster Drive. The main creek flowed along Doncaster Drive where Hillside Shopping Centre is today. Flooding was frequent in low-lying regions, particularly near North Dairy Road and along Shelbourne Avenue and Haultain Street. Problem areas were eventually re-routed to flow through concrete culverts.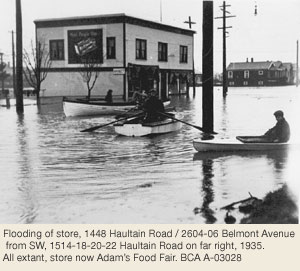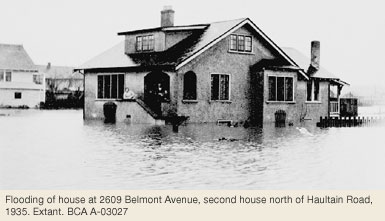 Oaklands' next building boom took place during and after WWII, with many examples of wartime and veterans' housing in the area, particularly on Shakespeare Street, Scott Street, Oakland Avenue, Hillside Avenue, Edgeware Road, Myrtle Avenue, and Kings Road. In 1950 the Victoria Kiwanis Club established the City's first Seniors' housing initiative on an 8-acre site between Cook Street and Cedar Hill Road. The development of Hillside Mall was begun in 1962 by Bentall: they built an enclosure for a number of independent businesses which had existed on the site and built the large Sears store. During the 1960's and '70s the great boom in apartment blocks throughout Victoria affected Oaklands only slightly, but the more recent condominium building boom starting in the 1990s is particularly evident along the main trunks of the neighbourhood such as Hillside Avenue.