ROCKLAND

• Rockland Heritage Register Properties


Rockland Neighbourhood History
by Carey Pallister © 2005
The neighbourhood known today as Rockland comprises an area bounded by Fort Street to the north, Richardson Street to the south, Linden Avenue to the west and Richmond Road to the east. Long before it was named, it was identified as a desirable place to live by Joseph Despard Pemberton, the first colonial land surveyor. Pemberton owned most of the easterly portion of what is now Rockland (Section 74), while the westerly section was subdivided from lands owned by Governor James Douglas (Fairfield Farm Estate). The open landscape offered spectacular views over Fairfield, the Strait of Juan de Fuca, the Olympic Mountains, Mt. Baker and the growing city centre. Oak trees and the rich blue of camas flowers characterized the area, which was rocky and steep in places. Early settlers referred to Rockland as Government Hill or Nob Hill. A panorama taken from Gonzales Hill in 1888 shows a bucolic landscape dotted with a few homes, with cows and sheep grazing in fenced pastures.

Click on the titles below to reveal more information
---

In April 1865 the first subdivision plan for part of what we now call Rockland was deposited with the Land Registry Office. The subdivision consisted of nine lots of about two acres each, on Fort Street between what is now Pemberton Road and Pentrelew Place. The lots were split off from the NE corner of the Douglas Estate. Members of the merchant class such as brewer Charles Gowen, "Cracker King" Samuel Nesbitt and general merchants Steimler & Weiler purchased these lots, some to build homes, others for investment.

Joseph D. Pemberton built one of the first homes in the area, naming it Gonzales. It was located just SE of where Rockland Avenue and St. Charles Street meet today. Originally built in 1858, the house was added to over the years. Gonzales was demolished in 1952.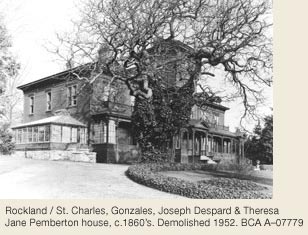 Other early homes included The Winds (demolished) built by Thomas Lett Stahlschmidt next door to Cary Castle in the 1860s. Entrepreneur Robert Burnaby, for whom Burnaby, BC is named, commissioned Charles Verheyden to design a "substantial villa" at the corner of Fort and Moss Street in 1872 which was described in the newspaper as being "remarkably pretty" (demolished). And across the street, Judge Hamilton Gray built a villa residence in 1873 on a five-acre parcel that he purchased from his neighbour Burnaby. Also in 1872, the Bank of British Columbia acquired property from Sir James Douglas off Moss Street between Fort Street and Rockland Avenue, and bank manager William Curtis Ward and his wife Lydia were able to have a large, handsome home built in time for the birth of their first child that year. They called the house Highwood (1021 Gillespie Pl).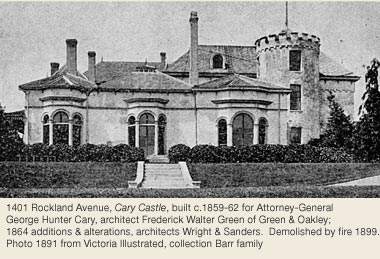 But perhaps the best known early home in Rockland was Cary Castle, designed in 1862 by F.W. Green of Green & Oakley for colonial Attorney-General George Hunter Cary. Cary's ownership was brief. Following her husband's untimely death, Elizabeth Miles purchased the rustic stone building with a 3 storey crenellated tower, across the street from Duvals, a lovely Gothic cottage she and her husband John Miles built in 1861 (1462 Rockland Av).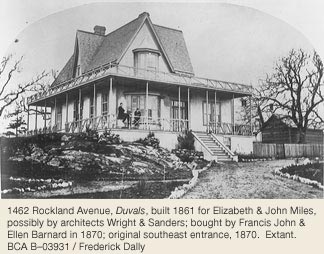 Cary Castle became the official home of the Governor of the Colony of Vancouver Island in 1865, after Arthur Edward Kennedy took a liking to the odd stone house and purchased it from Elizabeth. Cary Castle was altered and expanded to accommodate a succession of Governors and Lieutenant-Governors but it was ultimately destroyed by fire on 18 May 1899.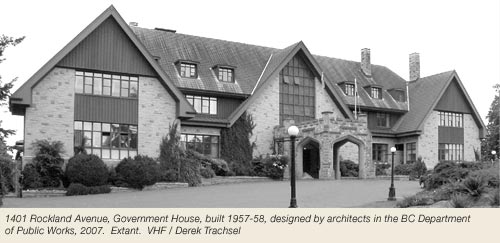 Government House was rebuilt to designs by Samuel Maclure and Francis Rattenbury and was completed in late 1903. On 15 April 1957 disaster struck again when the 54-year-old building was destroyed by fire. The new building was designed by architects from the BC Department of Public Works and finished in 1959 (1401 Rockland Av).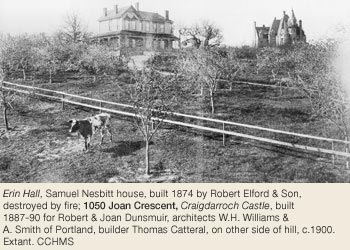 The 1880s saw the construction of larger and grander homes. Samuel Nesbitt, purveyor of crackers to the Navy, chose builders Robert Elford & Son to build Erin Hall off Fort Street in 1874 (demolished). In September 1872, also on Fort Street, Henry Pering P. Crease and his family moved into their Italianate villa, Pentrelew (demolished), a home he had purchased from E.G. Alston in 1871. They were soon joined by more of Victoria's prominent citizens, such as Rout Harvey, manager of Turner-Beeton, who built Stoneyhurst in 1884. This simple 2-storey frame home next door to Government House commanded excellent views over Fairfield and beyond (1369 Rockland Av -extensively altered). In 1889, banker Alexander A. Green had W. Ridgway Wilson design Gyppeswyk on Moss Street (now Art Gallery of Victoria, 1040 Moss St). Robert and Joan Dunsmuir's Craigdarroch, built between 1887 and 1890 and set on 28 acres, was the grandest of them all (1050 Joan Cr).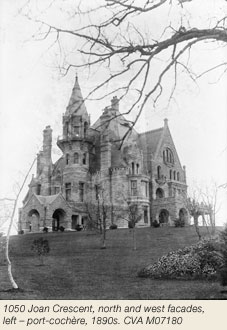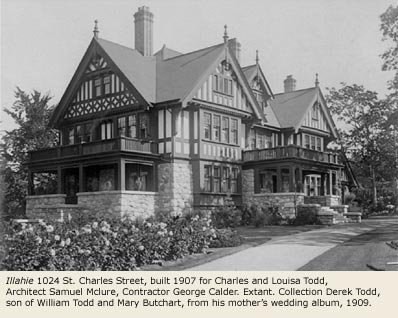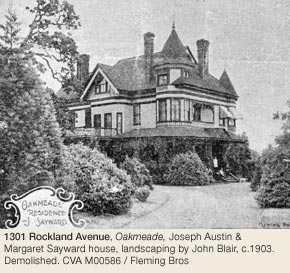 From the 1870s until the turn of the century, many lavish and some modest homes were added to the Rockland landscape. Generally situated to take full advantage of the wonderful views, many of the homes were surrounded by professionally landscaped gardens, although the properties were so large that the natural terrain, flora and trees were allowed to co-exist with the imported varieties of plants. Lumberman Joseph Sayward, for example, hired Beacon Hill Park planner John Blair to landscape his property Oakmeade at 1301 Rockland Avenue (demolished). These gracious homes and their gardens were the venues for lavish parties, musical soirées, dance recitals, weddings and charity events. In 1884, David W. Higgins, editor of the Daily Colonist, commissioned Portland architect H.H. Leslie to design a large home in the latest style.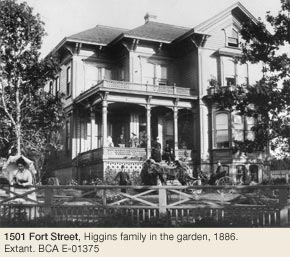 The Higgins' imposing Italianate villa, Regents Park, was built on the SE corner of Fort and St. Charles Streets (1501 Fort St). Five years later Higgins subdivided his 14-acre property into 20 lots. T.S. Gore, Dominion Land Surveyor, surveyed the Regent's Park subdivision. The area had been known as Regent's Park as early as 1863 when Pemberton, possibly trying to lure buyers of the right class, used the name of this up-market London residential area to attract potential buyers. Two new streets, named for Higgins' children, were created as part of this subdivision: Paul Lane (now Verrinder Avenue) and Maud Street. By 1900, diminishing lot sizes heralded a new generation of owners and homes. The homes were as grand as those of earlier days, but situated on less property and therefore lacking the country estate atmosphere that set Rockland apart from the other residential areas.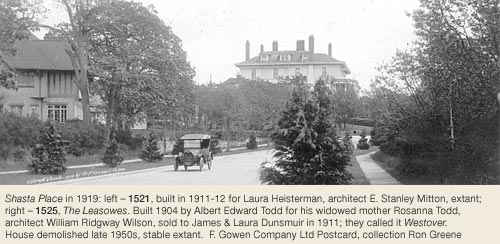 Eventually, the Craigdarroch Park Subdivision brought the greatest changes to the Rockland neighbourhood. After the death of Joan Dunsmuir in 1908, family lawyer Griffith Hughes presented a plan to the family that would divide the 28-acre property into 144 lots to be sold by lottery. Tickets were sold for $2,750 each, and lots were assigned by draw. The draw took place in March 1910 and by 1911 building in the subdivision began in earnest. Three new streets were created: Joan Crescent, Manor Road and Craigdarroch Road.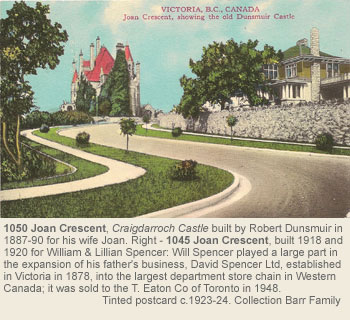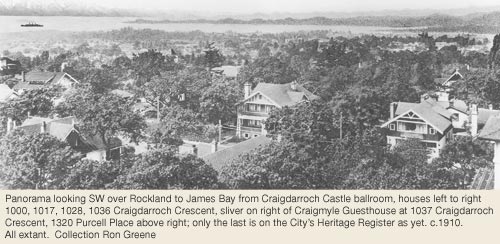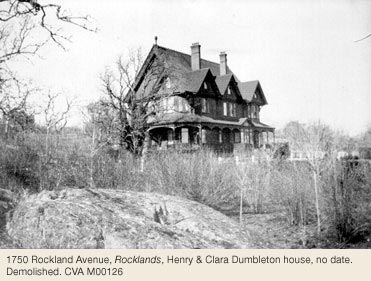 Historically, Belcher Avenue provided access from Cook Street to Pemberton Road, ending at the gates of the Pemberton farm Gonzales. J.D. Pemberton named the street in 1860 for Capt. Sir Edward Belcher, a noted surveyor and explorer, as part of his "Arctic Explorers" group of streets. In the late 1880s, a street connecting Oak Bay Avenue to Henry Dumbleton's home Rocklands (1750 Rockland Av, demolished) was established; it became Rockland Avenue. In 1905, the section between Pemberton Road and Dumbleton's house was dedicated as road and the entire street from Cook Street to Oak Bay Avenue was renamed Rockland Avenue.

Other streets in the neighbourhood reflect the names of early residents: Pemberton Road for Joseph Despard Pemberton and Despard Avenue for his grandson who was killed in WWI; Angus Road for James and Forrest Angus (1321 Rockland Av), brothers of R.B. Angus of the CPR; and Joan Crescent for Joan Dunsmuir, wife of coal baron and Esquimalt and Nanaimo Railway builder Robert Dunsmuir. George Gillespie, after whom Gillespie Place was named, was a manager at the Bank of British Columbia and lived at Highwood.

Other streets remind us of grand homes such as Pentrelew Place for the home of Judge Henry P.P. Crease (1201 Fort St, demolished); Algoa, the home of Cuyler A. Holland (1629 Rockland, demolished), and Dereen Place after the Robert and Patience Day home (806 Dereen Pl). Patly (1617 Rockland Av), the James Mitchell house, gave its name to Patly Place and the massive shingle-style home of Thomas B. Hall, a rice mill owner, is remembered in Robleda Crescent (1337 Rockland Av), original house destroyed by fire).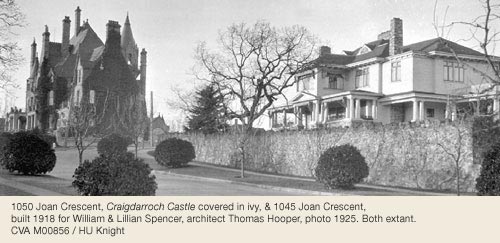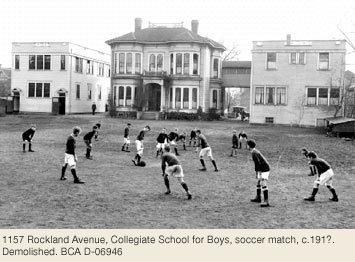 As the popularity and practicality of operating large estates dwindled, some of the bigger homes were opened as exclusive schools. One of the first was Cloveley College which opened in 1898 at 69 Belcher Street (later 1157 Rockland Av), an area now considered Fairfield Neighbourhood). This grand residence, built in 1884, was originally the home of Thomas and Caroline Humphreys. Following her husband's death, Mrs. Humphreys leased the building and 1¼ acres of grounds to a succession of schools, but the property will be best remembered for its time as the Collegiate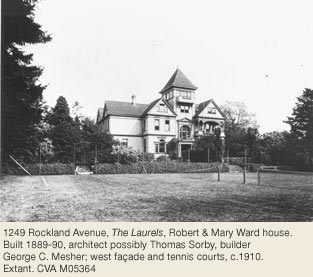 Robert Ward's home The Laurels at 1249 Rockland Av was also occupied by the Collegiate School from 1903-1912. St. George's School for Girls then occupied the house until 1928.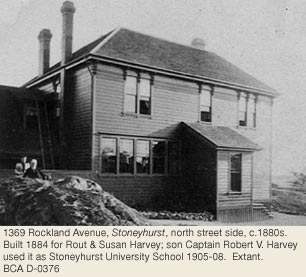 Other schools operated in the neighbourhood include Stoneyhurst University School at Stoneyhurst, 1369 Rockland Av; Westerham School at 1765 Rockland Av; Norfolk House School which used 615 St. Charles Street (Gonzales) as a girls dormitory; the University School (later St. Michael's) at the corner of Oak Bay and Richmond Avenues; and Victoria College (an affiliate of McGill University), which occupied Craigdarroch Castle from 1921 to 1946.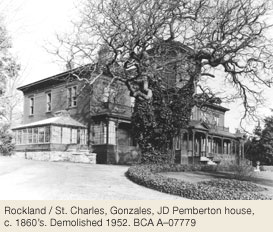 With Victoria's population growing rapidly, the city water supply was quickly becoming inadequate, and 1909 saw construction of a 100,000-gallon concrete water tower. This must have seemed unsightly, among the villas and Garry oak meadows at one of the highest points of Rockland, but, along with the Smith Hill Reservoir, it constituted a stop-gap project to supply Victorians with water until the new system at Sooke Lake was built. The area around the water tower was known locally as Observatory Hill.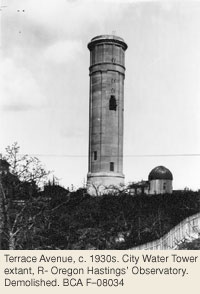 It featured a large, Queen Anne house called Observatory Villa with a 3-storey tower and a small observatory, which was built by amateur astronomer Oregon Columbus Hastings in 1890 (915 St. Charles Street, demolished). By 1903, the lane leading to the observatory had been officially named Observatory Hill.


Established as a residential neighbourhood, Rockland has for the most part remained so, apart from a couple of businesses that managed to coexist with Victoria's elite. For many years, P.T. Johnston's Seed and Flower Nursery was located on 4½ acres at the SW corner of St. Charles and Fort Streets. Philip Johnston and Henry Mitchell, advertising themselves as seedsmen and florists, started the business in 1868, a year later purchasing their land on Fort Street (then Cadboro Bay Road), which was then outside City limits. Mitchell and Johnston remained in business together until 1874. Mitchell subsequently pursued the field of landscape design while Johnston carried on as P.T. Johnston & Co. His son Robert eventually took over the business. In 1890, Johnston began subdividing the property. Four lots on Fort Street and one on St. Charles Street were sold first; then in 1899 he laid out and sold nine more lots on St. Charles Street.
Finally, in 1904 he sold off another 1½ acres. The business survived in its original location until 1905 and then moved further east on Cadboro Bay Road, near Willows Fairgrounds. In 1902 the Hopkins & Hopkins Carnation Co, "Growers of hothouse products; carnations, violets, asparagus etc," established greenhouses on the same block. Philip Johnston died in 1912, one year after he retired from 43 years in the nursery business. The only other industry in Rockland was established at the very periphery of the neighbourhood. The Crystal Spring Soda Water Manufacturing Co. had premises at 1244 Richardson Street. The business began in 1913 as the Crystal Springs Supply Co., successors to Christopher Morley who had operated a soda water factory on Waddington Alley. Their source was a spring at the rear of the property that is still active today. They advertised themselves as manufacturers of aerated and mineral water, fruit cordials, fruit syrup and essences. After 42 years in business, the Crystal Springs Beverage Co. moved its operation out of Rockland, to 540 John Street.

By the 1930s, Victoria City Council recognized that both Rockland and Fairfield had significant heritage value and should therefore be exempt from "any sort of apartment development." A 1943 bylaw restricted Rockland to "single family, no exceptions, development" but despite these edicts, that era saw significant changes to the neighbourhood as many of the large homes were broken up into apartments, boarding houses and nursing homes.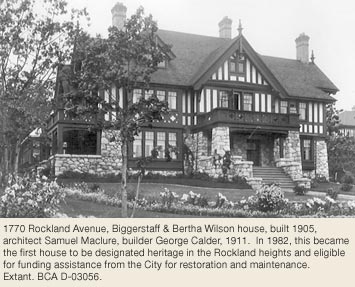 But it wasn't until the 1960s that the demolition of houses began, with new subdivisions and streets cutting through old gardens and orchards. In 1970, City staff wrote the first Rockland report. It discussed planning and zoning issues as well as laying out strategies for revitalizing Rockland's heritage character. Today some of the large homes previously broken up into suites have been returned to single-family dwellings, and many more have been lovingly restored and have opened their doors as bed & breakfast accommodation. To this day Rockland remains one of the most visited and desirable residential neighbourhoods in the city.