VIC WEST

• Vic West Heritage Register Properties

• Vic West Neighbourhood Heritage Walking Tour

Vic West Neighbourhood History
By Julia Trachsel © 2004
Victoria West, affectionately known as Vic West, officially came into being in 1890 when by-law #124 redefined and enlarged the boundaries of Victoria. The new boundaries were in force for the 1891 census. It occupies a peninsula bounded by the scenic Gorge/Selkirk waterway, the Victoria Harbour, and the eastern border of Esquimalt. Its 155 hectares (380 acres) represents eight percent of Victoria's land base.
Click on the titles below to reveal more information
---

In 1844, the Hudson's Bay Company's (HBC) requested that the Songhees people build their village along the west shore of the Inner Harbour, across the water from HBC's Fort Victoria. Their long plank houses covered the shoreline from Songhees Point to the north side of what is now the Johnson Street Bridge. This became a reserve in 1853 and was the main Songhees village before it was sold in 1911, and its inhabitants removed to the present site in Esquimalt. Today, the Delta Ocean Point sits on the site of Chief Cheetlam George's home, and Songhees Point, where the Commonwealth Totem Pole now stands at the entrance to Victoria's Inner Harbour, was known by the native people as Pallatsis, "place of cradle." When their children learned to walk, families would place abandoned cradles along this point to ensure their children a long life. When they died, the deceased Songhees were laid to rest on the then treed islands off Victoria West's coastline.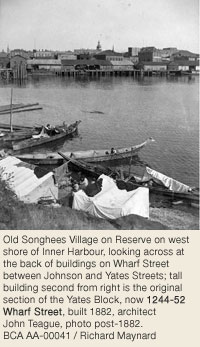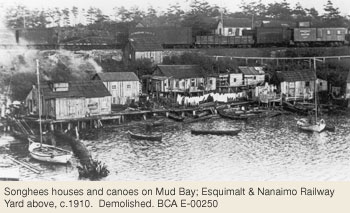 In 1858, the Fraser River gold rush made working on the HBC farms very unattractive, and many employees left to seek their fortunes. It was during this time that two former employees, Henry Simpson and (Robert) John Russell (505-07 Springfield St, Victoria West), purchased the only land in Victoria West that was not owned by HBC or used as a reserve.

Henry Simpson, born in Essex, England, acquired his rectangular piece of land in 1864. This parcel consisted of 45.8 acres and cost forty-four pounds and five shillings. It extended north from the Inner Harbour up to Craigflower Road, along the present day dividing line between Esquimalt and Victoria, and east to Russell Street. Simpson almost immediately sold his Victoria West property and bought 300 acres in Central Saanich, where he opened the Prairie Tavern, now the Prairie Inn, before clearing and farming his large property. John Russell's property was 103.5 acres, and bordered Simpson's on the west and the Songhees Reserve on the east. His purchase price was one hundred and three pounds, fourteen shillings and one penny! On four acres of waterfront property at the foot of what is now Russell Street, John built a large house with a wrap-around verandah and a driveway that encircled the house. His outbuildings included a barn for his livestock, a carriage house, and surprisingly, an outdoor dance pavilion, remembered fondly by old-timers. His house is alternately referred to as Russell House and Springfield House, depending on the source.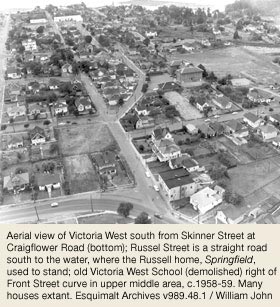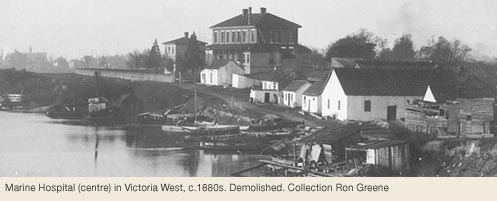 Bridges between Victoria West and Fort Victoria were put up and taken down depending on the politics of the day. They were built because Esquimalt residents wanted access to Victoria other than by boat, and taken down when the mix of Songhees and Fort Victoria newcomers created tension. Another problem was that a fixed bridge impeded vessel traffic up Victoria Arm to the ever increasing industrial areas, so for some time a ferry service operated between Lime Point and downtown.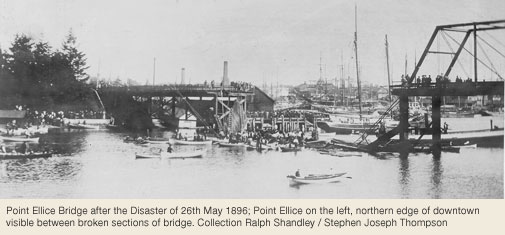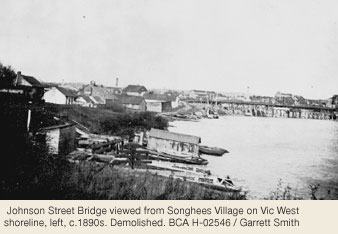 In 1886, the Esquimalt & Nanaimo Railway's (E&N) Russell Station was built on the south side of Esquimalt Road between Catherine and Mary Streets. (That site was used again between 1972 and 1985.) It was a small rust-red building with one long slatted bench outside; nearby were a freight shed and cattle pen. In 1888 a swing bridge was built to provide the E&N with access to its new terminus at the junction of Store and Pandora Streets, which was replaced in 1924 by the Johnson Street Bridge, designed by Joseph Strauss, who later designed San Francisco's Golden Gate Bridge.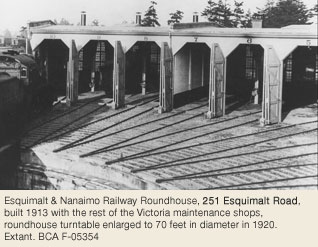 Victoria West was desirable for its direct access to the Inner Harbour and the Gorge, its hills with views to the Olympics, and its meandering shoreline dotted with sandy beaches. These attributes made it a favourite spot for the prominent families of the 1880s and '90s. Families such as Dunsmuir (coal and E&N Railway), Gray (Albion Iron Works), Muirhead (lumber and milling), Troup (shipping), Barnard (BC Coast Steamship Company), Brackman (Brackman-Kerr Milling Co) and Fairall (brewers), all lived in elegant homes throughout Victoria West. Unfortunately, only Muirhead (223 Robert St), Brackman (1004 Catherine St), Gray (1135 Catherine St) and Fairall (505-07 Springfield St) homes still exist from this group, and the oldest Muirhead and Fairall homes are gone. The eventual demise of these large estates came partly with the institution of income taxes during WWI, which made many of them uneconomic for subsequent owners. Left empty, the homes deteriorated and were eventually replaced with modern versions.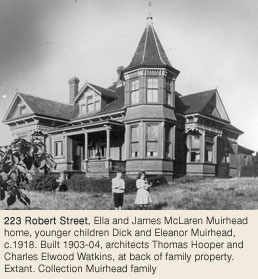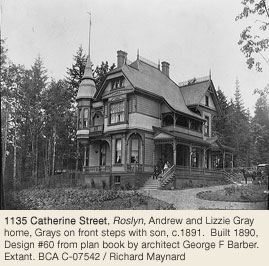 Sir Frank Stillman Barnard's former house was located just inside the western border of Victoria West, overlooking the Straits of Juan de Fuca. The site is now Barnard Park, and the gateposts still exist at the park entrance. The high-rise Princess Patricia apartments, built in the mid-1960s, now stand on the site of the home of his neighbour, Captain Troup.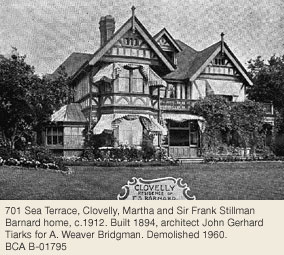 Burleith, James and Laura Dunsmuir's home at 743 Craigflower Road, was the most grand of all the demolished houses in Victoria West. It burned to the ground on Halloween 1931, the result of children playing with firecrackers in what must have seemed like a haunted house after being vacant for some years. All that remains of the 20-acre estate are sections of stonewall along Craigflower Road, and the gatehouse. There were croquet lawns, tennis courts, and garden paths – a park-like setting designed by Scottish landscape designer John Blair of Beacon Hill Park fame.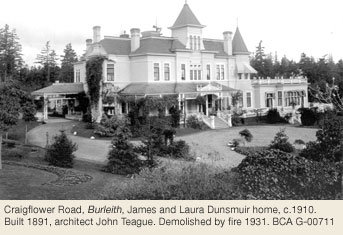 The wealthy in Victoria West lived alongside the working class. The men were employed by the many industries wrapped along the shoreline, the E&N and BC Electric Railway. After the Songhees people were removed to the Esquimalt Reserve in 1911, that land was designated for industrial use. At one point, there were seven companies simultaneously active in shipbuilding. Alongside these were lumber planing and sawmills, storage and wood drying mills, as well as machine shops and foundries. The Sidney Paper & Roofing Company, Shell, and Union Oil came later. Another employer was the CNR (formerly Northern Pacific). The derelict station house can still be seen on the west end and just north of the Point Ellice Bridge. The CNR yards were completed in 1920, and included a five-stall engine house, workshops, coaling facilities, water tower, station and freight shed. From 1922-31, passenger rail service at Victoria West's Point Ellice Station took sightseers, workers and residents to Sooke. The present day Galloping Goose Trail takes its name from the old passenger car that plied that route. The Railyards, a new housing development, is currently being built on part of the CNR site.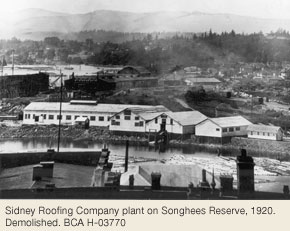 In 1895 John Tait (or Tate) built a brewery out on (Old) Esquimalt Road, now Wilson Street, where his son Fred brewed Silver Spring Old English Ale and a fine stout. In 1907 this business was sold to a former employee of the Victoria-Phoenix Brewery, Harry Maynard, and his associates John Day and Philip Crombie, who renamed it Silver Spring Brewery to match the ale. Silver Spring acquired the old Fairall Brewery on Esquimalt Road in1908 and built a modern new brewery, donating their former site for a playground for Victoria West Public School.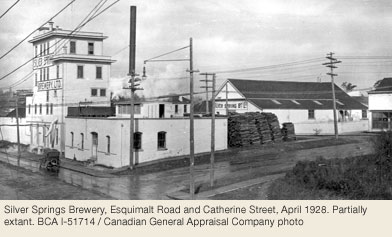 Excelsior Biscuit Bakery, located between Russell and Mary Streets, was built in 1901. It later changed hands to become Ormond Biscuit Co, the creators of high-end chocolates, crackers, and cookies. Today it is a rental storage facility, but the original signage, although faded, can still be seen on the building's north side. Nearby was the Fairall Bottling Works, near the corner of William Street and Esquimalt Road, operated by William Fairall, producing a variety of flavoured soda waters from 1901-22. NuWay Cleaners opened its doors in the old Fairall Bottling Works building, in 1934. William's brother Henry owned and operated the Fairall Brewery for a time.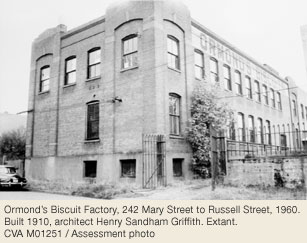 Victoria West was well sprinkled with smaller establishments, and no one had to walk far for groceries, meat, drug store necessities, banking or mail. One of these was owned by Norman and Margaret Hill and was located on the corner of Front and Wilson Streets. It's now an apartment house, but still sports a downstairs window etched with a horse and cart and the words "Hill's Grocery." When in full service, local residents could fill up with gas, buy meat and groceries, and pick up their coal supply. Local youngsters with bikes delivered orders. Safeway built on Springfield Street and Esquimalt Road in the early 1940s; being only a block away, Hill's Grocery slowly became unprofitable and closed in the 1950s.

The land between Mary and Russell Streets along Esquimalt Road, now a used car dealership, was once the site of a post office and barbershop. A drug store and tailor's shop were nearby. Vic West's first bank at Catherine and Bay Streets, The Royal Bank of Canada, is now a doctor's office. Just up Catherine Street was a tea and coffee shop. Victoria West's first and only strip style mall was located on Craigflower Road, between Raynor Avenue and Pine Street. The anchor businesses were McGuire's Drug store, Baker's Grocery Store, Cross's Butcher Shop, and a dry cleaner. It has been refurbished and is still home to several small businesses.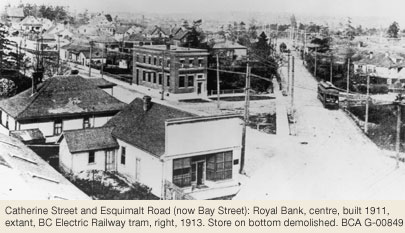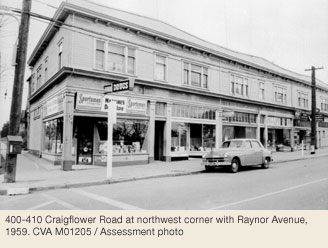 Fire hall No.4 was built in 1899 at the corner of Edward and Catherine Streets. It was an imposing brick structure topped by a bell tower, but was withdrawn from use in 1937 as the city lacked money to keep it open. The building was later renamed Salvation Army Hall and used by community groups and the scouts as a meeting place. Subsequent to that it was left to deteriorate, and once beyond repair, was demolished.

The first school in Victoria West was located above the blacksmith's shop at Mary St and Esquimalt Road Children living in the area before that attended Craigflower School. It charged a fee and to get there required a boat trip up the Gorge. A more suitable local school was needed, and a 28' by 48' wood structure was built on Front St in 1888, taking in 66 students. By 1895 as more land became subdivided and Vic West's population grew, enrollment had increased to 150. Additions were built, teachers were added and space was even rented in the Mary Street Baptist church. By 1907 enrollment had increased to 300, and architect Colonel William Ridgeway-Wilson designed a new one. It was a handsome two-storey brick building, similar in style to the recently saved Lampson Street School, and was completed in 1908. A brick annex became the Manual Training building in 1910 and in 1913 a second brick annex was built for Domestic Science on the north side of the grounds. All remained relatively unchanged until 1971 when a new school was built on the corner of Front and Langford Streets, once the site of seven houses demolished for that purpose. The original brick school was also demolished the same year. The 1910 annex, now the Kindergarten, is all that remains of the original brick structures.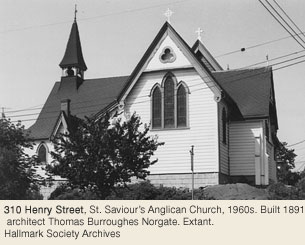 The Blacksmith's shop that housed the first Victoria West schoolroom also accommodated the community's first protestant congregation, who built what is now St. Saviour's Anglican Church in 1891. In addition to St. Saviour's, there was the Victoria West Methodist Church on Wilson Street, St. Paul's Presbyterian on Henry Street, The Baptist Mission on Mary Street, and Saint Mary's Catholic Church on Langford Street. When the Methodist and Presbyterian churches amalgamated, the new United Church of Canada was built on Fullerton Avenue.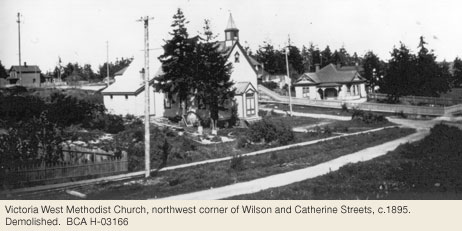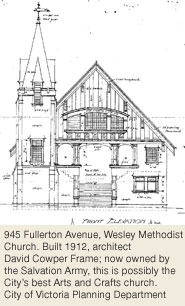 Entertainment was a community affair in early days and Vic West's social centre was Semple's Hall, at the corner of Langford and Mary Streets. Shows, concerts, plays and dances gave local residents a chance to view imported talent and to showcase their own. Although close to the fire hall, it burned in 1925 and was never rebuilt.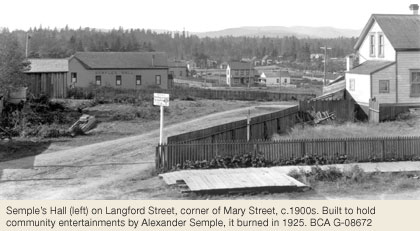 The Victoria West Athletic Association was very active up to WWII, and produced some world-class athletes. The outflow of young men to war decimated its membership, and it only rallied again in recent decades. Other recreation in Vic West was provided for the most part by Mother Nature. The inner and outer harbour and the Gorge accommodated rowing for racing and for pleasure, and the many rocky outcroppings were a natural playground for adventurous children.

The Victoria West Brotherhood was an active organization before organized government financial assistance. One of its founding members was Dr. Melbourne Raynor. He was behind the Brotherhood's attempts to provide a healthy place for Victoria West residents, including safe areas for children to play and assistance for the area's elderly. His entry into the political arena to further promote his causes was cut short by his accidental death in 1925. Charles Banfield took up where Raynor left off, and was especially active after he retired from his position as King's Printer in 1946, and entered civil politics. Before he died in 1958, Victoria West had a Community Association, a "Y," and a large park and recreation area bearing his name. A more substantial Point Ellice bridge was also on his agenda, and was completed in 1958, one year before he died at age 82.


Residential growth was slow after the first boom in the 1890s when upgraded bridges and the streetcar provided better access to downtown. A short flurry of activity was seen after the James Dunsmuir estate was subdivided in the 1930s. The slow growth has meant that many original homes in Victoria West still remain, although many were modernized by the application of stucco and asbestos siding. In the 1970s, as Victoria West's population rapidly increased, industry was rerouted away from the Songhees and plans were made to replace it with high-rise condominiums and low-cost multiple dwelling housing. The Colonist, 30 May 1972, reported plans for more parks, more housing, less industry, and a general upgrading of the community, all of which has come to pass.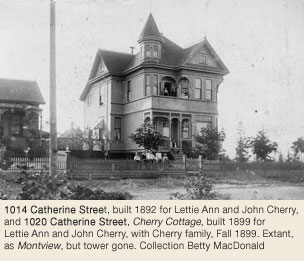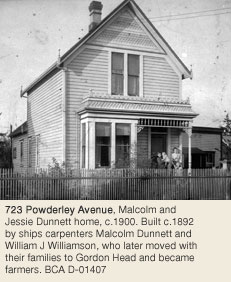 In 1984 Victoria's first Brew Pub opened on the west side of Lime Bay in a renovated turn of the century house, originally 308 Catherine St. Initially known as the Lime Bay Inn, locals and tourists alike now know it as Spinnakers. The brewpub has two guesthouses; the one just north at 332 Catherine St has recently been restored.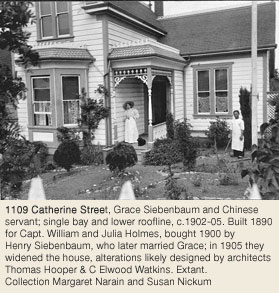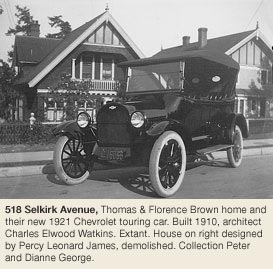 A building and restoration boom continued throughout the 1980s and '90s, adding to Victoria West more Co-op housing, several live/work industrial-style high-rises, townhouse developments and continued heritage designation and restoration of turn of the century homes. As the Galloping Goose trail becomes incorporated into the Railyards housing development and continues along the Tyee Road corridor south to the Johnston Street Bridge, it will join up with the West Song Walkway to provide both residents and visitors with a way of enjoying Victoria West's scenic coastline.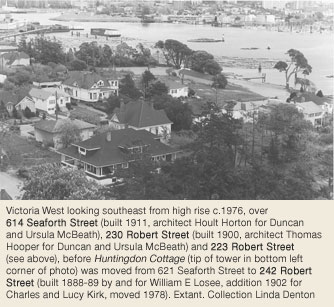 With the development of the Westside Village shopping centre and the continuing development of the Songhees lands, Victoria West can again offer its residents retail, eateries and pubs, traditional residential and multi-family housing, just as it did a over a century ago.