Return to list of New Designations
194 Olive Street
Built 1912
Designated 2009

Mrs. Adell W. Hill
Architect: Milo S. Farwell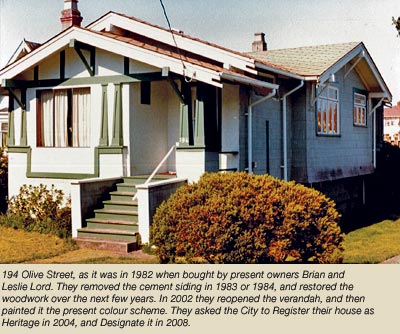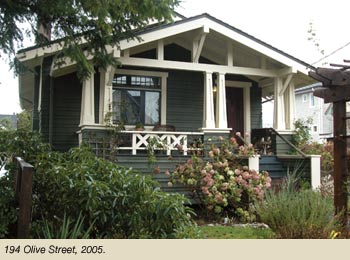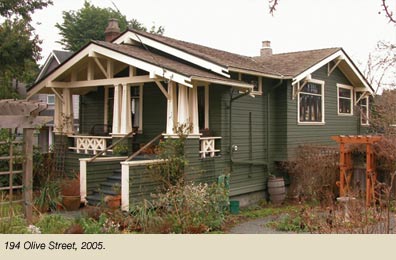 This house is important as a good example of a small California Bungalow, illustrative of the development of the Fairfield suburban neighbourhood at the height of Victoria's building boom before World War One, after the streetcar line was installed through Fairfield in 1909-10. It also illustrates through several of its owners how widows during the early decades of the 20th Century could support themselves in a limited choice of occupations, but still have the security of owning their own homes.

This house is also important as an example of the residential designs of Milo S. Farwell, one of a number of eager young American architects who were drawn to Victoria during the pre-WWI building boom, Farwell was born in Portland in 1890, trained in the Portland office of William C. Knighton, and was in Victoria by 1912. Other residential designs include 1619 Pinewood Av for the Bungalow Construction Co, 1914; commercial designs include the 1913 alterations to the Scott and Peden Warehouse at 1601 Store St. In 1914, after the boom collapsed, Farwell moved to Seattle, and later back to Portland. He died in California in 1966.*
* Research by Jennifer Nell Barr for Building the West 2003.

This 1-storey front-gabled home has a gabled porch slightly to the right of center on the front and a gable on the right (north) side. A Craftsman Bungalow, its low-pitched roof and vaguely Oriental trim identify it as the subtype California Bungalow. It has the archetypical Craftsman open eaves with exposed raftertails and triangular brackets under exposed beam-ends in both porch and side gables. The porch has a simple truss gable on double and triple tapered square supports with inset grooves set on shingled piers; there are broad bargeboards with notches at the ends on the porch and both gables. The siding is courses of alternate wide and narrow clapboards. There is a shingled wing with an attached pergola to the rear, and an exterior brick chimney on the left side. Several casement windows have multiple-paned transoms, two panes high and with varying widths.

This house was connected to sewer in July 1912 for Mrs. Adell Hill, who supported herself by working as a dressmaker. Of Scottish descent, she was born Adell Winifred Hamilton in Russell, New York in 1859. She was the widow of Lester Hill when she moved to Canada and Victoria in 1912. She lived in the house until c.1918 and then left Victoria until the mid-1920s, when she moved into 406 Quebec St. Adell lived there until 1951, at times with her daughter Hazel Pauline Small (1890-1983, widow of Henry Earley Perrier Small), who worked for the BC Coast Steamship Service. Adell was resident in St. Mary's Priory in Colwood when she died in 1952 at 93.

From 1920 until at least 1926 this was the home of realtor/farmer Neville John Hopkins and his wife Emily (Sterling). Neville was born in Connington, Cambridgeshire, England in 1858, the son of the Rev. Favil Hopkins. He came to Canada about 1889 and Victoria in 1903. He later worked for 16 years as a farmer until his retirement in 1936; the Hopkins were living in Oak Bay when Neville died in 1939. Emily was born in Richmond, Surrey, in 1862, and was resident in Trebatha at 1124 Fort St (Fernwood) when she died in 1944.

From 1927 until her death in 1971 the owner was Laura Plant, who lived in 194 Olive except from 1935-41 when she left Victoria, and rented to Edward & Stella Blair. The Blairs were born in South Shields, England and Paisley, Scotland, respectively, and came here in 1911. Edward worked in the BC civil service until his death at 62 in 1951; he was a member of Britannia Lodge AF&AM, and the Royal Arcanum. Stella was living with daughter Dorothy Davison in Saanich when she died in 1958 at 84; she was a life member of Victoria Women's Institute.

Laura Plant was the widow of Capt Edmund H. Plant, Barrister and Solicitor, who died at 41 in 1926. Plant served with the Welsh Territorial Forces in Egypt and France but was discharged as medically unfit in 1913. The family came to BC in 1919, and Victoria about 1922. Son John was a student and lived with his mother in this house in 1929, but left by 1931. Laura was born in England in 1889. In 1946 Laura was employed in the City Hall cafeteria, and her daughter Adele, a saleswoman for W&J Wilson, was living with her.

From 1972-82, the house was owned by engineer Peter and Giselle Gigliotti, who lived in the house, and then by Peter's father Pasquale, who rented it out. In 1982 he moved to Calgary and sold to John "Brian" Harry and Leslie Anne (Foxgord) Lord. The Lords have spent 26 years restoring the house, including reopening the front verandah which had been closed in to increase the size of the living room.