Heritage Register
Fairfield

25 Cook Street
Inglenook

Built 1911
Heritage-Designated 2003
For: Louis & Alberta York

Architect: H.J. Rous Cullin
Contractor: T.D. McDonald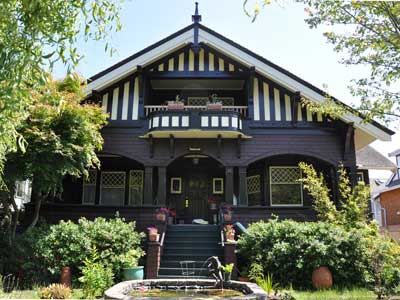 ARCHITECTURE:

This house is one of the most intriguing on the block. In the United States this 1½ storey home would be labeled as a Craftsman Bungalow, with its moderately pitched front-gabled roof with prominent triangular-bracketed beam-ends, its shingled first storey, and its full-width arched porch's doubled chamfered square supports. However, although it has open eaves, it lacks exposed raftertails, virtually a hallmark of a conventional Craftsman building. In Victoria this is sometimes called a Chalet house because of its roof's Swiss appearance (1009 Terrace Av, Rockland), which is added to by the cantilevered second-storey balcony over the entrance. Probably the best categorization of this would be English Arts & Crafts. The front door is unusual, with a semicircular window and two small partial leaded sidelights. There is a gabled dormer on each side of the roof, and a gabled wing on the right side.

ORIGINAL OCCUPANTS:

Louis Sebastian Vancouver York (1878-1952) was born in Victoria, the second son of Joseph and Martha York. Joseph came to Victoria in 1862 on the Tynemouth, and joined the gold rushes to the Cariboo and to Big Bend. He then became a contractor and builder in Victoria, and in 1875 married Martha Dickens from Coventry. In 1878 their first son, John William Dickens "Will" York was born, and Joseph was in the dry goods business. They went back to England 1885-94 so the boys could go to school, then returned here permanently. John married Edith Belle Roberts in 1908, and in 1910 Louis married Mary Alberta "Berta" Lee (c.1878-1963), a recent graduate from Royal Jubilee Hospital nursing school. She was born in Toronto, the daughter of Christopher Lee, and lived in Winnipeg before coming here. Louis and Will were outstanding athletes, leading the United soccer team to its 1904 championship, and the Victoria Cricket Club to victories in 1910-11-12. At the time of his marriage Louis was a member of the Pacific Club, and he was a long-time and highly-rated member of Victoria Golf Club.

When they returned from their 1910 honeymoon "on the 5 o'clock boat for southern points," Louis and Berta moved into a new house at 19 Cook St. The following year they moved into 25 Cook, but had left by the end of WWI. Louis and Will were both realtors during Victoria's boom before WWI. Will was connected with the architect H.J. Rous Cullin in 1910-12, and 17 and 25 Cook were designed under that partnership. Louis later worked as a provincial auditor, boarding house manager of Miller Court, and an accountant into his 70s, for Hibberson Timber Co. When Louis died they were living at 1526 Belcher, which had been his parents' house at their deaths.

OTHER OCCUPANTS:

After WWI the house had a number of owners, and was frequently rented out. The first in 1921 was Alfred Cornelius Flumerfelt (855 Pemberton Rd, Rockland).

Janet Miriam Grace Holland (née Tupper) and Walter Glen Cuyler Holland (1889-1972), whose family was prominent in the BC Land and Investment Agency, lived in the house from 1921-24. Walter Holland died in Surrey in 1972.

From 1943-58, Robert, Thomas and Agnes Linn owned and occupied the house.