Heritage Register
Fernwood

2221 Fernwood Road
(ex-Sayward's Lane, 185 then 179 Fernwood Rd)

Built c. 1888-89; 1896-97
Heritage-Designated 1977
For: William & Mary Maslen; Paul & Oddny Thorsteinson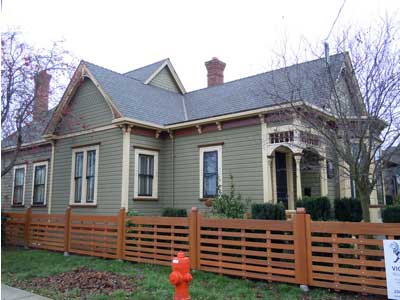 ARCHITECTURE:

This is a single-storey Queen Anne house. It has two front-facing gables; the rear, higher than the front, ends in a hip. There are two side gabled extensions with returns on the gable ends. The left is the same height as the front, the right is lower and shallower. There are decorative bargeboards on the three lower gables, and sandwich brackets under the eaves on the front and sides. The front bargeboard sits on a pent roof. The angled bay below is situated to the right of a narrow inset corner entry porch. The porch has turned square post and pilasters, brackets, spindle frieze and sawn balusters in the balustrade. There is a flat roof over the porch and entry hall. There are decorative shingles in all the gables and drop siding on the body. The finials and cresting have not been reconstructed.

In 1980, in the basement of this house, Jim Stiven founded the restoration firm which became the well-known Vintage Woodworks Inc. With the help of old photos from the Anderson family estate, Jim and Cathie Stiven were able to restore some missing finials and front porch details, and reconstruct the fence to its original design. They then replicated as closely as possible the original tones in their colour scheme. They also did foundation work, and perimeter and storm drains. In 1982 the Stivens won a Hallmark Society Award for their detailed restoration work on the house. Subsequent owners have maintained the house in its rehabilitated condition.

ORIGINAL OCCUPANTS:
.
1886-90: An unproven rumour said that the oldest part of this house was built on Sayward St, just behind Fernwood, and then moved to the corner of Fernwood and Denman. However, William and Mary Maslen (1260 Denman St, Fernwood) were living at 185 Fernwood at least as early as 1889, in a small cabin or "shack," and had owned the property since 1886. William farmed about nine acres in the area. They also had a tenant, Walter Nathan (1252 Denman St).

OTHER OCCUPANTS:

1890-1900: Paul Thorsteinson (1865-1939) and his wife Oddny (1867-1942) lived on Sayward's Lane the beginning of 1890, then moved to 185 Fernwood Rd. Paul was a labourer and a water diviner. He and Oddny were farmhands in Iceland before emigrating to Victoria in 1888. This house was situated within the small Icelandic community which centred on the Icelandic Lutheran Church two doors south of this house. Many Icelanders arrived c.1885, but a number of them later moved to Point Roberts, WA. Paul and Oddny moved to Point Roberts in 1894, with Paul's half-brother Helgi Thorsteinson and family. Helgi married Dagbjort Dagbjartsdottir in Victoria in 1888, and lived behind this house at 12 Sayward's Lane. Paul and Helgi each claimed Squatters Rights on land at the bottom of the Point in 1894. Paul's Rd near the SE corner of Point Roberts was named for Paul.

The small cabin was rented to tenants:
1893: Sigurdur Palson, an Icelandic carpenter. This was probably a mis-naming of carpenter Sigurdur Palsson Scheving who had previously boarded with Helgi and Dagbjort Thorsteinson. He, too, moved to Point Roberts in 1894.
1894: Peter Christianson, a labourer and painter, Olene Kristin (Olivia Christina) and their daughters Christina, Rulna and Jane. The Christiansons emigrated from Iceland to Manitoba in 1887 and came to Victoria in 1891. Peter and Olene both died in Saanich.

House tenants: 1897-98: J.F. Rausch, packer and clerk for Ames Holden Co of Montreal, wholesale boots & shoes, manager A.C. Flumerfelt, 855 Pemberton Rd, Rockland.
1900: Ship's carpenter Jeffrey Hail Lawrence, Catherine and their daughter Cora. In 1911 Catherine and Cora were running a boarding house at 946 Caledonia St.
Owners: 1901-79: Thorston Kjartan Anderson (1863-1949) and Ragnhildur "Rankha" (née Erickolafson, b. Iceland 1863-1949) lived around the corner at 3 Centre Rd in 1898, but had moved to this house by early 1901. Thorston was born to Kjartan Eivarson and Gudbjorg Bendedasdottir in Iceland. Thorston and Rankha changed their last name to Anderson, and came to Grafton, ND, then Winnipeg, MB, in 1887. They settled in Victoria in 1890.

Thorston was a shipping clerk for Jacob Sehl, BC Furniture Co, in 1901, and by 1912 was a warehouseman with Smith & Champion, furniture and awning manufacturers at 1420 Douglas St. He later became an upholsterer and cabinetmaker, and retired in 1931. He was a member of Victoria Lodge No.1, AOUW.

Their son James (b. Winnipeg, 1890-1939) was a dental mechanic. He never married and lived with his parents. He grew remarkable delphiniums in the garden, advertised seeds in gardening magazines, and exported them all over the world. Their daughter Ragnhildur "Rankha" (b. Grafton, ND, 1887-1979) also remained single. She worked as a dressmaker, and was still living in the house in 1975. She was a prominent member of the Canadian Women's Icelandic Society.