Heritage Register
Rockland

1070 Joan Crescent

Built 1913
Heritage-Registered
For: Thomas & Emily McConnell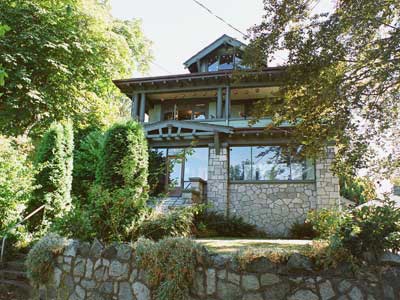 ARCHITECTURE:

This hipped-roof Foursquare house has a 2-storey, inset, full-width front verandah, the main floor now enclosed. It features an eclectic mix of two popular Edwardian styles, with Classical Revival modillioned enclosed eaves, paired Tuscan columns on the upper porch, and an entry door with oval glass and stained-glass sidelights. Craftsman features are the shingle siding, a bracketed and trussed gable and a massive granite wall and square supports on the lower porch, and a gabled front dormer with notched bargeboards, brackets, and exposed rafter ends. Also typically Craftsman are the three square shingled bays with bracketed gables. It was assessed at $9,000, at the beginning of the bust before WWI.

ORIGINAL OCCUPANTS:

This house was built for Thomas Palmer (1873-1959) and Emily (1876-1964) McConnell. In 1897 Thomas, a Victoria native, married Emily Charlotte Kirkwood, who came from England in 1889. Thomas started working in the clothing business. In 1910, he switched to real estate. A long-standing member of the Victoria Rotary Club, Thomas was secretary from 1935-55. He is credited with introducing professional baseball to Victoria, and in 1913, the Victoria Bees played in the Western Baseball League, which included teams from Seattle, Tacoma, Portland and Los Angeles.

OTHER OCCUPANTS:

By 1920 Dr. Eric Wellesley Boak (1891-1957) and his wife Dorothy Chrysler (Edsall, 1889-1972) were the owners and residents. Eric was born in Halifax, NS, and took medicine at Queen's University, interned at Vancouver General Hospital, and came to Victoria during WWI as a surgeon-lieutenant at Royal Roads Naval College, now Royal Roads University and Hatley Park National Historic Site. After WWI, Eric established a general practice in Esquimalt, then Victoria. He was a staff member of Royal Jubilee and St. Joseph's Hospital at different times, and was also chief medical officer of the BCCSS. He was president of the BC Medical Association shortly before he died of a heart attack in 1957.

Dorothy was born in Bowmanville, ON, and came to Victoria in 1912. She married Eric in Vancouver in 1915. Dorothy graduated from Royal Victoria Hospital in Montreal as a Registered Nurse. The Boaks lived in this house until the mid-1940s. Dorothy was living at 1015 Gillespie Pl at the time of her death in 1972.

By 1949, retirees Dr. Charles Ogilvie (1882-1957) and Grace Alice (Griffith, 1885-1985) Wood were running the Castleview Guesthouse here. Charles, a dentist born in Edinburgh, Scotland, lived in Winnipeg for 30 years before retiring.
By 1958, Baltz and Inge Nufer owned and operated the guesthouse. It was converted into six suites in 1959. Since 2005 it has been owned by the Craigdarroch Castle Historical Society.

ADDITIONAL INFORMATION & IMAGES:

• Map of Victoria's Heritage Register Properties

• Rockland History

• Rockland Heritage Register


• This Old House, Victoria's Heritage Neighbourhoods,
Volume Three: Rockland, Burnside, Harris Green,
Hillside-Quadra, North Park & Oaklands